Animal Kingdom Lodge offers just about everything you'd need for a wonderful vacation. In addition to the activities and dining listed on other pages, AKL also has offerings for your practical needs.
On the ground floor of the resort, near the Arcade, the Pool area, and The Mara, you can find one guest laundry facility–available to guests for use and well-equipped with washers, dryers, and vending machines for soap and dryer sheets. Washers and dryers are standard size and cost $2 each per use. Soap and dryer sheets are $1 each. The second laundry facility available to Lodge guests is on the second floor, Kudu Trail. Disney Vacation Club members have access to a free laundry facility on the 5th Floor, Zebra Trai.
High speed Internet Access is available via cable or W-Fi in all guest rooms and DVC Villas. As of March 2012 Wi-Fi access is available to guests and visitors of the resort now in even more public areas than ever before. You'll be able to log in at the Porte Cochere, Main Lobby, Bus stops, Guest rooms, Feature Pool, Jiko, Boma, The Mara, Sanaa, Bus stop at Kidani, Lobby and villas at Kidani Village.
Across the hallway from the laundry facility is AKL's well-appointed childcare center–Simba's Clubhouse (actually, it's "Cubhouse," but it's usually not pronounced that way).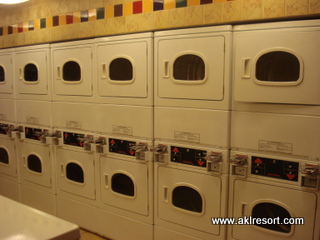 This large room holds toys, activities, and games to delight your kiddos–from doll houses and board games to a whole row of video game consoles! And kids can watch the animals on the savanna while they're at Simba's! Childcare is available for a fee from 4:30pm-12midnight, and kids ages 4 -12 (3 if they're potty trained) are welcome. Reservations 24 hours in advance are highly recommended and can be made by calling (407)WDW-DINE
Note Animal Kingdom Lodge no longer offers Camp Kidani or Bush Camp however between Jambo House and Kidani Village there are a wide variety of Cultural Activities that make this resort a fantastic place for kids. Visit our Printed Materials Gallery to view the 2011 September Activities Guide so that you can get an idea of all the fun that's offered!