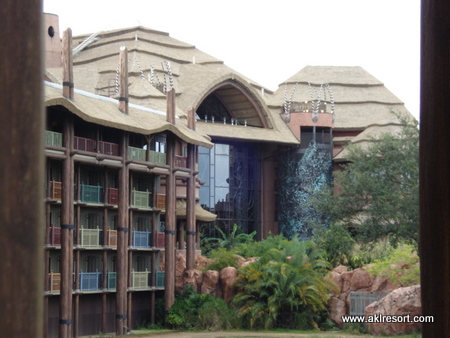 Animal Kingdom Lodge Guest Room Basics
Animal Kingdom Lodge boasts 1,293 guest rooms–all with private balconies–offering choices of Savanna, Pool, or Standard views. All rooms are located on one of four "trails," which are essentially hallways off of the main lobby: Giraffe Trail, Kudu Trail, Ostrich Trail, and Zebra Trail. Rooms usually contain two queen beds, but are also available with one king bed or one queen bed and a set of bunk beds! Also available are one- and two-bedroom suites, and Vice Presidential and Presidential suites.
Per night room rates range from $280 for a standard-view room, up to $2,300+ for the Presidential Suite. Visit our Blog Post that highlights the 2012 AKL Room Rates for more details.
Guests are also able to book on the Concierge-Club level, receiving upgraded amenities (such as turn-down service and complimentary bathrobes); access to the Kilimanjaro Club, serving snacks throughout the day and offering an evening wine and cheese reception; the opportunity to venture on the Sunrise Safari, including breakfast and a private Kilimanjaro Safari ride at Disney's Animal Kingdom theme park; or the Wanyama Safari through Animal Kingdom's Harambe Preserve which is available to all AKL guests.
Finally, remember that you can also book Disney Vacation Club "villas" at the Animal Kingdom Villas, which offer studios (with kitchenettes), one- and two-bedroom villas (with kitchens), and the spectacular three bedroom Grand Villas that can sleep 12.
All rooms contain in-room safes, irons and ironing boards, hairdryers, coffee makers, Free WiFi and refrigerators. Cribs are available by request.
A Few AKL Room Tips and Tricks
Animal Kingdom Lodge is a large resort, and views and room locations can make a big difference to the enjoyment level of your overall stay. Also, don't forget to check the Animal Kingdom Lodge room rates to determine costs for different room types.
VIEWS:

Because the hotel's biggest draw are its animals, your room view weighs heavily on your room cost. Savanna views include great views of one of AKL's three savannas, pool views include a view of the main Uzima Pool—or any roofs or trees around the pool area, and standard views constitute everything else: parking lot views, dirt trail views, or even—if you're lucky—a less-than-perfect view of a savanna.

AKL has been known—especially after the events of 9/11 when tourism slowed significantly—to give free upgrades to savanna view rooms when available. This hasn't been seen anecdotally for a few years, now, but it's always a gamble some folks are willing to take.

ROOM LOCATION:

Because AKL is large and has several different room view types, the location of your room really does matter. And because the resort is far away from most of Disney World's attractions, travel times can be extensive–a drawback to staying at AKL. This is why many Disneyphiles only consider AKL worth their money if they're staying in a savanna view room. Here are our top picks for room location, in order of importance:

Savanna Resident

Savanna View: You should weigh your priorities here. Some folks really love the atmosphere and away-from-everything location of AKL, making the less expensive standard view and pool view rooms worth their cost. Others consider the remote location of the hotel to be a drawback and will only consider staying at AKL if they have a great view of the animals.
Arusha Savanna View: There are three different savannas at AKL—Sunset, Arusha, and Uzima. We like the Arusha savanna because it gives us a backdrop view of the beautiful lobby's picture window. The Arusha savanna is also the hotel's "main" savanna, located right off the lobby; because of this, you can be assured that there will always be a wide variety of animals on this savanna. It can however, be the savanna that offers the least privacy—at any given time hotel visitors will be oohing and aahing over animals at the public viewing areas, most of which look out onto the Arusha savanna. In 2011 Disney changed it's pricing structure, the Arusha savanna view rooms now have a premium price.
Zebra Trail: There are four trails that make up the resorts four architectural arms: Zebra, Kudu, Ostrich, and Giraffe. Only Zebra and Kudu offer views of the Arusha savanna, and the Zebra trail offers the added benefit of being closer to the pool and restaurants.

Mousekeeping Left a Fun Reminder of the Mouse!

Third or Fourth Floor: Being on the third or fourth floor offers just about the perfect animal viewing level; floor 2 feels too low, giving you a less expansive view of the whole savanna and decreasing your ability to spot animals farther away, and floors 5 and 6 can feel so high that it's hard to get a close-up, intimate look at the animals on the ground.
Halfway Down the Trail: This is very much a matter of preference. The Zebra and Kudu trails are very long and it can take several minutes to walk to an end-of-the-trail room depending on your speed. This walk gets frustrating at the end of a long day in the parks, if you've forgotten something in your room and have to run back for it, or if you have mobility concerns. We like to be situated about halfway down the trail, as many of the animals dislike venturing very close to the lobby/public viewing areas and tend to stay further out on the savanna.
For More About Animal Kingdom Lodge Rooms, Check out These Blog Posts!