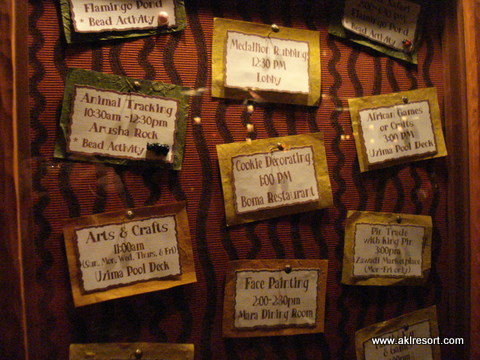 Disney's Animal Kingdom Lodge has the unique opportunity to offer programs for guests that immerse them in African experiences, and impact their learning about different African cultures, foods, and traditions. This page highlights just a few of the fun activities you can only experience at Animal Kingdom Lodge and Villas!
For the very latest information please check the Activities Guide that you're given upon check in. If you haven't gotten an updated activities guide stop by the front desk to pick one up!
Wanyama Safari: A sunset adventure through the AKL savannas.
Dine with Animal Specialists – An "Untamed" Lunch at Sanaa: Wednesdays at 11:30 you can join Disney's Animal Specialists at Sanaa for an fun, interactive lunch. $49 for adults. $29 for children (ages 3-9). This experience is recommended for guests ages 8 and above. For reservations, call (407)938-6922, or visit the concierge desk.
Cookie Decorating: Daily at 1:00 p.m. in Boma: The Flavors of Africa.
Jiko Wine Tasting:On Wednesday afternoons from 3:00 p.m. to 4:00 p.m., stop by Jiko to sample South African wines and sample some unique flavors. Visit our friends at Disney Food Blog for a great review of the experience. The cost is $25 plus tax and gratuity and you should make a reservation by calling 407-938-7149.
Culinary Tour: Tour the award-winning restaurants Boma and Jiko, and "discover the flavors of Africa!" Boma podium at 3:45pm daily. Click here for a tour review by Disney Food Blog.
Animal Viewing with Night Vision: A fun adventure with night vision goggles! 9-11pm daily on Uzima Overlook.
Cultural Safari: 30-40 minute presentations about their native homelands by AKL cultural representatives. Sunset Lounge at 8:30pm daily.
Kidani Community Hall: Open daily from 9:00 a.m. to 10:00 p.m. this is the place for arts & crafts, videos & board games, and to pick up sporting equipment. A Daily Signature Craft is explored in the hall from 3:00 p.m. through 6:00 p.m. Additional information is available from your in-room phone if you call 7-6950.
Kids' Programs: With the addition of Kidani Village next door, Animal Kingdom Lodge has added/expanded two kids' activity programs. Neither are full child care like Simba's Clubhouse, but they might appeal to your little ones!:
Camp Kidani: available to kids ages 6-12 years, 7 days per week from 6-8pm. Cost is $30 per child, and $28.50 for each additional child. Kids in this program work with a guide to achieve a goal pertaining to the culture and animals of Africa. Call 407-WDW-DINE for reservations (suggested, though same-day reservations may be available). There is a 24-hour cancellation policy. NOTE: Camp Kidani is discontinued as of October 1, 2010. AKL will likely replace the service with another activity, to be determined.
Bush Camp: available to kids ages 6-14 on Saturdays from 3-5pm. Cost is $30 per child, with $10 being donated to the Disney Wildlife Conservation Fund. The program includes an exploration of the resort's savanna, where kids will learn about African culture through activities, crafts, and taste testings. You can book this program by calling 407-WDW-PLAY; there is a 24-hour cancellation policy and DVC members get a 10% discount.
Music is a huge part of how Disney creates exotic atmospheres. If you want to bring that magic of the Animal Kingdom Lodge Home with you, check out this list of AKL background loop music for purchase on iTunes and Amazon!