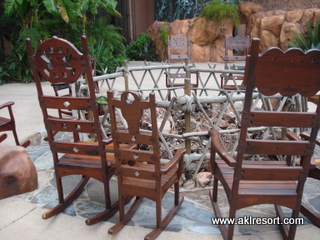 Animal Kingdom Lodge is a destination unto itself; there's plenty to do, and even with the theme parks beckoning, you'll find yourself wanting to schedule "resort-only" days whenever you can! While AKL boasts the standard Disney Resort activities–a huge, zero-entry pool; jacuzzi hot tubs; a top-notch spa and fitness center; and a tricked out arcade, it also offers some one-of-a-kind attractions that you can't find anywhere else (Psst! Check out some of AKL's activities on our Printed Materials page)!
At Animal Kingdom Lodge, you can try your hand at night-vision animal watching–complete with night-vision goggles, head out on an exclusive safari, do rubbings of some of the authentic carved bronze artwork around the resort, sit around a bonfire to hear tales told by African story-tellers, listen to African ambassadors talk about their home countries, attend free wine-tastings at Jiko–The Cooking Place (home of the largest North American collection of South African wines!), and more. Be sure to ask at the front desk about Animal Programs!
Don't forget, if you'd like to spend a quiet evening sitting by the fireplace in the lobby, sipping wine at Victoria Falls Lounge, or sharing a special room service dinner on your balcony with your partner, Simba's Clubhouse–AKL's childcare center–is ready to entertain your kiddos for the evening!
You can learn more about things to do at Animal Kingdom Lodge at Disney World's Animal Kingdom Lodge Activities.