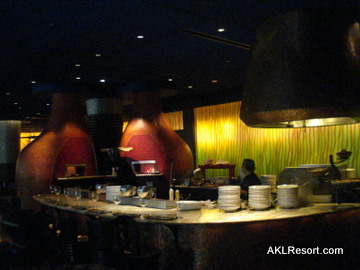 The Animal Kingdom Lodge has two of Walt Disney World's most highly reviewed restaurants: Boma, AKL's African buffet, and Jiko–The Cooking Place. The Mara is AKL's counter service restaurant. NOTE: Because the resort guests are actually entering a wildlife preserve, AKL has disallowed the presence of balloons, plastic straws and cup tops, etc., because of their potential to hurt the animals. Mercifully, they have brought back the cardboard straws (which went AWOL for a couple of years–what a horrible time that was for we uncoordinated folks!).
Boma is available for breakfast and dinner and highlights all-you-can-eat food with an African flair, including spiced and crusted meats, African soups, and an assortment of hummus. Jiko, open only for dinner, offers delicious dishes and tastes of the exotic, including an appetizer that features ostrich meat and entrees flavored with olives, preserved lemons, figs, and other African and Mediterranean flavors. Jiko also offers the nation's largest assortment of South African wines.
Also, be sure to head over to Sanaa in the Animal Kingdom Lodge's dedicated Disney Vacation Club area, Kidani Village. This Indian- and African-inspired restaurant offers guests a casual, table-service restaurant with an incredible view of the savanna and its animals.
All of AKL's dining establishments have an element of the African to them, so prepare picky eaters to possibly try new tastes. Jiko, Boma, and Mara are located on AKL's main building ground floor–below the lobby–and have views of the pool area.
Sanaa is located in Kidani Village, a short walk from the main building of Animal Kingdom Lodge.
Prior to dinner, be sure to visit Victoria Falls Lounge for a cocktail.