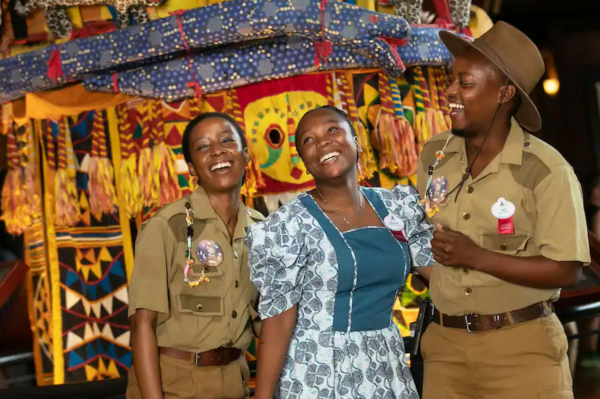 Exciting news over at Disney's Animal Kingdom Lodge! Over the last few weeks, the resort has been welcoming back cultural representatives from countries across Sub-Saharan Africa. Cultural representatives are Cast Members who participate in the one-year Disney International Program to help create authentic experiences and immerse guests in the diversity of their home countries.
You can find cultural representatives in EPCOT around World Showcase and Animal Kingdom Lodge has long been a location where African Cast Members work and share their culture through activities at the resort. With the 2020 park closures, the cultural representative program was paused but a phased return has been in progress for some time.
Now, cultural representatives have made their way back to Disney's Animal Kingdom Lodge and can be found supporting Disney's Animals, Science, and Environment team by inspiring guests to care for the world. When visiting Disney's Animal Kingdom Lodge, you may find these Cast Members sharing their love of African music, teaching guests about over 200 animals who live on the Lodge's savanna, and greeting guests in the lobby.
Naledi Nala, a returning cultural representative said of the program, "I love sharing everything I can about South Africa with our guests who have an interest in listening and learning. I can't wait for everybody to come to Animal Kingdom Lodge and experience the warm welcome of South Africa and African cultural reps."
Do you love Disney's Animal Kingdom Lodge? Subscribe to the monthly Disney Hotels Fan newsletter! Join fellow fans over on our Facebook page and follow us on our Twitter feed @DisneyHotelsFan.