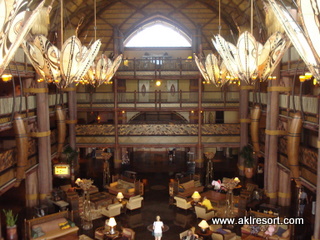 One of the most beautiful and intricately themed of Walt Disney World's Resorts Disney's Animal Kingdom Lodge is a treat for guests looking to escape the every day and indulge in a vacation that truly transports them. We've gathered together 5 great reasons why you should consider staying at the Animal Kingdom Lodge on your next Orlando Vacation.
1. Atmosphere. Situated among a 43 acre wildlife preserve, Animal Kingdom Lodge stays true to its African theme and creates a one of a kind atmosphere for guests that simply can't be found anywhere else short of traveling to Africa itself. Guests of this AAA Four diamond resort experience of viewing exotic animals from several look out points scattered around the property both inside the hotel and from lush landscaped grounds. The majority of rooms offer balconies which overhang the private savannas and offer stunning views of the wildlife below. This spectacular resort is home to the largest collection of African Art outside of Africa that dots the public areas with amazing crafts.
2. Dining. Animal Kingdom Lodge is home to some of Disney fans' favorite dining experiences from the extensive buffets at Boma to the fine dining and award wining wine list of the signature Jiko. At AKL's eateries you can enjoy a variety of African flavors as broad as the continent. My favorite "secret" Disney restaurant calls Animal Kingdom Lodge's Kidani Village home, Sanaa lets you experience a fusion of Indian and African cooking styles while offering a breathtaking daytime view of the Sunset Savanna. There are four restaurants and three bars that will tempt your tastebuds with their delights.
3. Animal and Cultural Programs. Animal Kingdom Lodge guests have the opportunity to immerse themselves into a plethora of African experiences through animal and cultural programs. From tours of the kitchens and wine tastings to nightly animal viewing, to drumming and storytelling this resort does everything it can to immerse you in the diversity of Africa.
4. Fabulous Pools. The pools of Animal Kingdom Lodge offer fantastic retreats to relax by.Uzima Springs Pool is an oasis in the midst of what can be a busy vacation. It features a zero-entry pool with a fun slide and 2 hot tubs. The Uzima Springs Pool Bar is the perfect place to grab a snack or a drink while you relax. For those guests staying at Kidani Village, Samawati Springs the fun is kicked up a notch with the overview of a private savanna, and a wild splash and play area, as well as drinks from the Maji Pool Bar. No matter where you chose to slip into the cool water you'll be able to get lost in the oasis, and at night enjoy the "Float In" Movies.
5. Rooms. The savanna view rooms at AKL are without a doubt one of the most unique room views you'll find in the United States. The many room options at Animal Kingdom Lodge offer guests the opportunity for rooms with savanna, pool, or standard views. The rooms are lush, decorated in hand carved dark woods and Disney-fied African Print textiles. These deluxe accommodations pamper your body, and when you look out the window to the savanna your spirit can't help but soar too.
So that's it! My five favorite reasons that you should chose the Animal Kingdom Lodge for your next Disney Vacation. What's your favorite part of staying at the Animal Kingdom Lodge? Leave a comment and let me know!