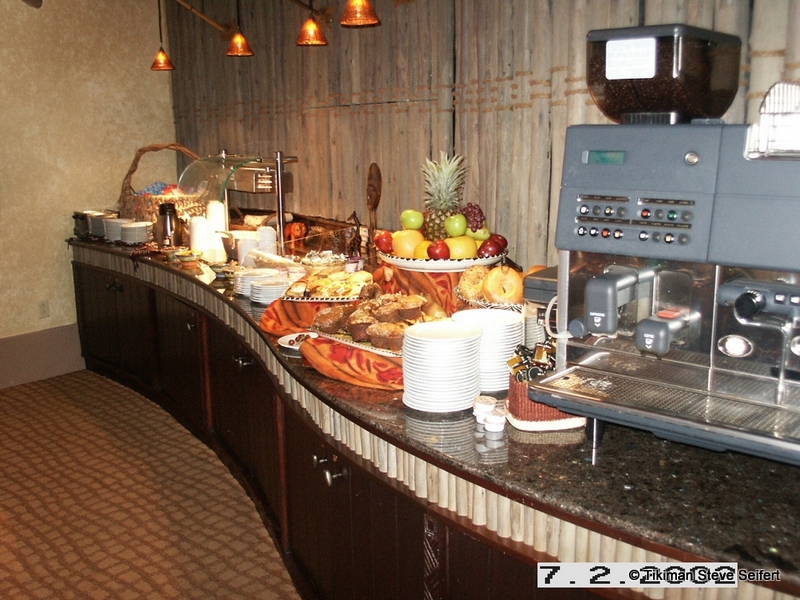 It's tough to decide whether the Kilimanjaro Club concierge option is worth the money. Lots of veterans say that the extra, complimentary food offerings are what really make the extra money worth it, so we thought we'd compile a list of Kilimanjaro Club Concierge Lounge food items reportedly served to help you determine if the cost is warranted! Though the menus change every day, here are some sample items:
Breakfast:
Oatmeal, pineapple/orange/guava juice, muffins, bagels, other pastries, cereal
Snacks and Afternoon Tea:
Snacks are served at the Kilimanjaro Club throughout the day, including goldfish crackers, gummy bears, fresh fruit, pretzels, nuts, scones, dried fruits, warm cookies, brownies, veggies, cheese and crackers, etc. Loose leaf tea is offered mid-afternoon.
Lunch and Dinner:
African-style items from Boma and Jiko are often served at the Kilimanjaro Club, including ribs, meat skewers, soup, chicken wings, African beers, hummus and pita, etc. For the kids, there's peanut butter and jelly sandwiches.
Desserts and Evening:
In the evenings, you can indulge in Boma's signature desserts like pineapple cheesecake, chocolate covered strawberries, zebra domes, and blueberry tarts. Cordials, such as Baileys, Drambuie, Frangelico, Grand Marnier, are also available.
There is also a self-service fridge with beer, soda, and milk you can take back to your room.
Fore more information about Animal Kingdom Lodge concierge, visit our Kilimanjaro Club Concierge page and image gallery.