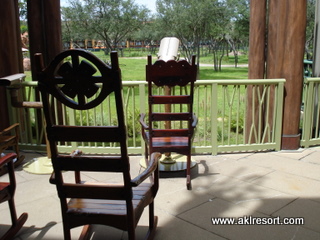 What is a resort day? It's a day you can build into the middle of your vacation – maybe you're getting a little winded from all the traipsing around the parks (oh, my aching feet!) or maybe the children in your group could use a slower-paced day.
Some ideas for your AKL resort day: Sunbathe at the Uzima Springs pool, check out the animals roaming the savannas around the resort, and take advantage of some of the free and low-cost activities available only to AKL guests. There are activities for children and adults alike. Here are a few to consider for your resort day!
Animal Activities
A variety of animal-related activities are available at AKL in the morning and afternoon hours. Learn about flamingoes and pelicans and see them up close. Or learn about animal tracking technology. There's even a Garden Safari to learn about the interactions between the animals and plants that live near the Uzima Springs Pool. Or test your animal knowledge with some of AKL's animal experts.
Arts & Crafts
Make Your Own Beaded Jewelry is a popular Saturday activity for those ages 13+. (Note that there is a cost for this activity.) Medallion Rubbing is a daily activity in the Jambo House lobby, where you can make a rubbing of one of the beautiful floor medallions. Or you can attend a session on African Games & Crafts at the Uzima Pool Deck.
Children's Programs
Camp Kidani is available to children ages 6-12 daily from 6-8 p.m. Cost is $30 per child, and $28.50 for each additional child. Children in this program work with a guide to achieve a goal pertaining to the culture and animals of Africa. Call 407-WDW-DINE for reservations for your best chance at getting a spot. There is a 24-hour cancellation policy.
There's also Bush Camp on Saturdays for children ages 6-14. Click here for more info.
Restaurant Activities
A tour of Boma and Jiko is available daily at 4 p.m. – meet at the Boma podium. You can also decorate your own cookie at Boma at 1 p.m. daily! Yum yum.
Click here for a sample activities page from Animal Kingdom Lodge. Be sure to get a copy of this when you check in, as activities and times are subject to change.
We hope you have fun, relax, unwind and learn something new during your Animal Kingdom Lodge resort day!
Do you love Disney's Animal Kingdom Lodge? Join fellow fans over on our facebook page and follow us on our twitter feed @DisneyHotelsFan!