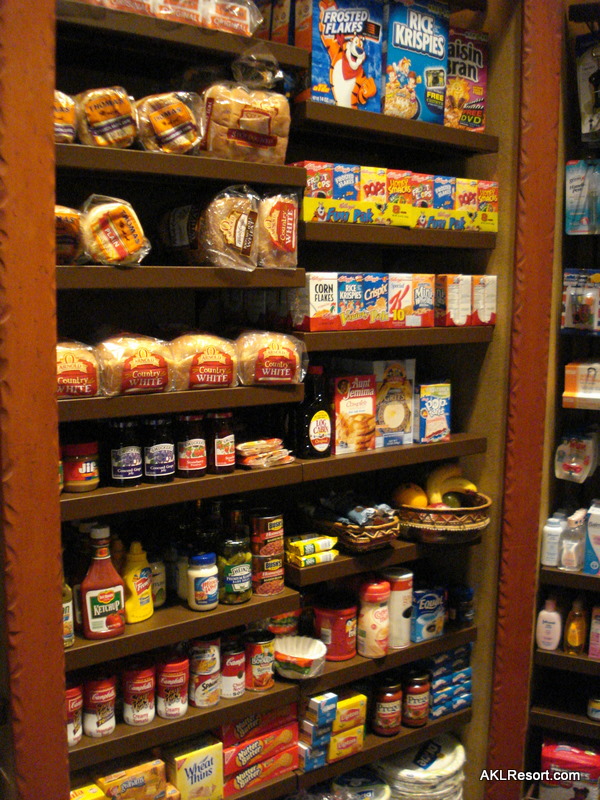 While pricing at Disney restaurants is getting higher, you can save some cash by making meals in your room. You might be staying in a Kidani Village or Jambo House villa, where you'll have either a kitchenette or a full kitchen in which to cook meals. But even if you're in a regular room, you still might have the need to grab a few groceries during your stay.
While Animal Kingdom Lodge's Zawadi Marketplace in Jambo House and Johari Treasures in Kidani Village offer plenty of Disney-themed merchandise and imported African goods, they also both provide lots of meal options. Things like cereal, bread, and packaged goods are readily available, as are frozen meals (individual size and family size), frozen pizza, deli meat and cheese, condiments, milk, butter, breakfast bars, bottled water, soda, snacks, ice cream and frozen desserts, chips, crackers, coffee, macaroni and cheese, vegetable oil, uncooked pastas, fresh fruit, canned soups and chef boy r dee meals, and chilled alcoholic beverages.
Additionally, the shops sell pantry items like aluminum foil, paper plates and napkins, charcoal, garbage bags, and paper towels.
Finally, you'll be able to find toiletries like diapers, shampoo and conditioner, other hair products, drugstore items, over-the-counter medicines, sunscreen and aloe, band-aids, moleskin, etc.
To see more photos of Johari Treasures, visit this page of our Kidani Village Image Gallery.
To see more photos of Zawadi Marketplace, see our Zawadi Marketplace Page and Image Gallery.