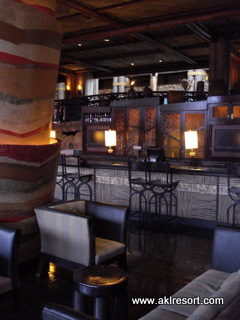 The Animal Kingdom Lodge has a distinct vibe during the day, and another at night. Nights are special at AKL. There are several activities that are offered only at night, making the resort a unique place to wind down after a long day.
Sunset Savanna:
As the sun goes down, make your way to the Sunset Savanna Overlook viewing area, designed specifically for viewing at sunset. It's located just beyond the lobby to the left. Giraffes, zebra, impalas and more will be active at this time of day, and if you're lucky, they may be close! This is a great photo-taking spot, and tripods are welcome. Be sure to visit the various savanna viewing areas several times, and eventually, you will be able to get a close-up view of a native African animal.
Animal viewing with night vision goggles:
This is a bit of a well-kept secret! Once you've gotten your fill of picture-taking at the Sunset Savanna and it's gotten completely dark, you have the opportunity to view animals with night vision goggles. A cast member will be on hand to identify animals and help you use the goggles properly. This free activity is currently offered at the Uzima Savanna Overlook, beyond the Uzima Springs Pool Bar, near the Uzima Springs spa. Right now this activity is held from 9-11 p.m., but be sure to check with staff, as times may change through the seasons.
African story-telling:
Another unique nighttime activity is African story-telling. African cast members will regale you with a story each night around the firepit in the lobby area, or at the outdoor firepit, at 7:30 p.m. nightly. Check with staff for location and time, which may be subject to change.
Nightcap at Victoria Falls Lounge
Top off your night with a drink at the Victoria Falls Lounge, overlooking Boma. Enjoy a South African wine near the indoor waterfall, or opt for a beer, martini or mixed drink. Relax, breathe, and smile – you just enjoyed a night at the Animal Kingdom Lodge!
Do you love AKL as much as we do? Drop us a line over on facebook or twitter!
This post is part of the DisMarks Disney Blog Carnival! Check it out for more great Disney-related content and information.