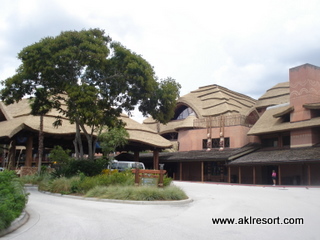 So even though we here at aklresort.com are all Animal Kingdom Lodge devotees, there's always debate about which resort is better going head-to-head with another.
An obvious comparison to Animal Kingdom Lodge is Wilderness Lodge. Built less than 10 years apart, both were designed by the same architect, Peter Dominick. Both have beautiful vaulted 6-story lobbies. And, both are the least expensive resorts to stay at in the Deluxe category.
But who wins the battle in the Battle of the Lodges? Let's look at some key categories and see them duke it out.
Guest Rooms
Guest rooms at Animal Kingdom Lodge and Wilderness Lodge are quite similar in size and in features. At AKL, there is the Kilimanjaro Club; at Wilderness Lodge, the Old Faithful Club. But I think AKL takes the win here based on the sought-after savanna view rooms. There's nothing quite like waking up and opening your curtains to find a giraffe, gazelle or zebra grazing outside your room.
Location
This is one category where Wilderness Lodge shines. Located just a boat ride away from the Magic Kingdom, Wilderness Lodge is cheaper than the three Seven Seas Monorail resorts — Contemporary, Grand Floridian and Polynesian — but just as convenient. Meanwhile, Animal Kingdom Lodge sits on the far west side of Disney World property and requires a bus or car ride to everything else on WDW property.
Unique Features
This one is a toughie. Wilderness Lodge boasts some special features, like the Carolwood Pacific Room, the secret fireplaces, and the Firerock Geyser. There's also the beautiful totem poles in the lobby. But AKL has the indoor and outdoor fire pits, the beautiful African art in the lobby and throughout the resort, and of course — the animals! But really, each resort is so unique and both deserve recognition, so we'll call the Unique Features category a draw.
Dining
Another toughie here! Wilderness Lodge boasts the fun and festive Whispering Canyon Café, while AKL boasts the popular Boma buffet. In the signature dining category, we have the Pacific Northwest-inspired Artist Point at Wilderness Lodge and the hard-to-book Jiko at AKL. But when you add in the ever-popular and crowd-pleasing Mara counter service at AKL vs. Roaring Fork at Wilderness Lodge, it seems AKL ekes out a win here. And a nice bonus is the hidden gem Sanaa at AKL's Kidani Village.
And the winner is…. Animal Kingdom Lodge! It was a win for AKL in the food and guest room categories. Toss that in with a draw on unique features and we have a win for our beloved AKL.
Have you stayed at both Animal Kingdom Lodge and Wilderness Lodge? What do you like about each resort? Leave a comment below!
Do you love Disney's Animal Kingdom Lodge? Join fellow fans over on our facebook page and follow us on our twitter feed @DisneyHotelsFan