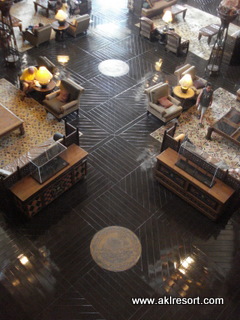 There are so many activities at Animal Kingdom Lodge — for the animal lover, for the foodie, for the kids, for the adults… and for the artist! Here are a few sample activities for the creative types:
Make Your Own Beaded Jewelry. Create your own beaded necklace or bracelet at Simba's Clubhouse. For ages 13 and up, this 2-hour activity requires a small fee. Check the hotel's activity sheet for days and times.
Arts and Crafts. Usually available several days a week, the arts and crafts activity is overseen by the Recreation Staff Cast Members on the Uzoma Springs Pool Deck near the arcade. This is a paid activity.
Medallion Rubbing. The floor of Jambo House features several beautiful medal medallions, etched with African artwork. Usually offered every day, this free activity allows you to create your own rubbing from the floor medallions as a special keepsake.
Ceramics Activity. Come to Simba's Clubhouse and create your own piece of ceramic art, and pick up the next day. There's a small fee for this 2-hour activity. Check the activity sheet for days and times.
Have you participated in any artsy activities at Animal Kingdom Lodge? What did you create? Leave a comment below.
Do you love Disney's Animal Kingdom Lodge? Join fellow fans over on our facebook page and follow us on our twitter feed @DisneyHotelsFan.