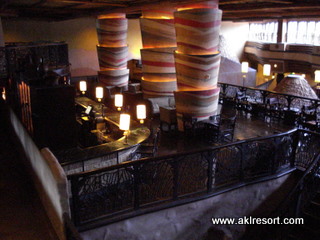 You're on vacation so it only makes sense that you want to find some time to relax in the middle of all the park hopping, bus riding, and FastPassing.
Disney's Animal Kingdom Lodge offers its guests many options when it comes to relaxing from fine dining to just sitting on your room's balcony with an "adult" beverage in hand.
7. Enjoy the view – One of the best things about hotel rooms with a balcony is you always have your own personal space when you need a break from the crowd. And if you're lucky enough to have a savanna view, you could very easily sit for hours watching the animals as they meander through the savanna (trust us, we've done just that!)
6. Get a massage – Disney's Animal Kingdom Lodge is home to Zahanti Spa and Fitness Center where guests can enjoy relaxing massages or take some time in the sauna. Or if working out is your relaxation method, you could do that too!
5. Soak up the sun, poolside – The resort is home to two amazing pools – the Uzima Springs Pool at Jambo House and Samawati Springs at Kidani Village. Find a lounge chair in the sun (or the shade), grab a frozen drink, and just relax.
4. Watch the animals – You will find animal viewing areas in several spots throughout the resort (in addition to your savannah view rooms). These areas are a great spot to enjoy your morning coffee (or tea!) and take a break.
3. Listen to a nighttime story – Each night at the firepit at Arusha Rock a cast member tells stories of their homeland next to the roaring fire. Snag a seat in a rocking chair and enjoy this nighttime story under the stars.
2. Enjoy a cocktail at Victoria Falls Lounge – Even though this bar is located off the lobby of Jambo House it is a great place to unwind (sans kids!) after a long day. Take the kids to Simba's Clubhouse and then enjoy a "grownups night" at the lounge, and then follow it up with dinner.
1. Dinner at Jiko – After a relaxing cocktail, head over to Jiko for an unparalleled dining experience. The atmosphere is relaxing and food is amazing.
What is your favorite way to unwind while staying at the Animal Kingdom Lodge? Leave us a comment and let us know.
Do you love Disney's Animal Kingdom Lodge? Join fellow fans over on our Facebook page and follow us on our Twitter feed @DisneyHotelsFan.