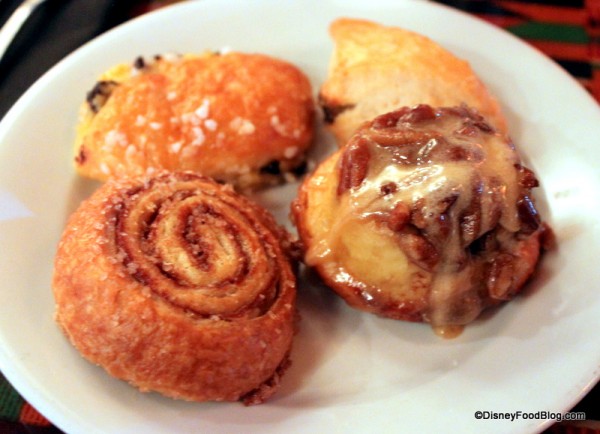 Big news for fans of Boma at Disney's Animal Kingdom Lodge! The restaurant has announced that it will have extended hours at brunch on Easter Sunday and Mother's Day.
The regular brunch hours at Boma are from 7:30 – 11 a.m. But guests with spring vacation plans that include Easter or Mother's Day are in for a treat as the hours will be extended from 7 a.m. until 2 p.m. on April 20 (Easter Sunday) and May 11 (Mother's Day).
We love Boma (check out our "Breakfast at Boma" post here ). The breakfast/brunch buffet is one of the most unique buffets you'll find at Walt Disney World. You can't go wrong with the Jungle Juice, French press coffee, and of course the French toast bread pudding with praline caramel sauce!
You can make your Easter Sunday or Mother's Day brunch reservations now by calling 407-WDW-DINE or visit www.disneyworld.com/dine.
Dinner hours will remain the same on Easter Sunday and Mother's Day, from 4:30-9:30 p.m.
Thanks so much to our friends at the Disney Food Blog for the use of this picture.
Do you love Disney's Animal Kingdom Lodge? Join fellow fans over on our Facebook page and follow us on our Twitter feed @DisneyHotelsFan.