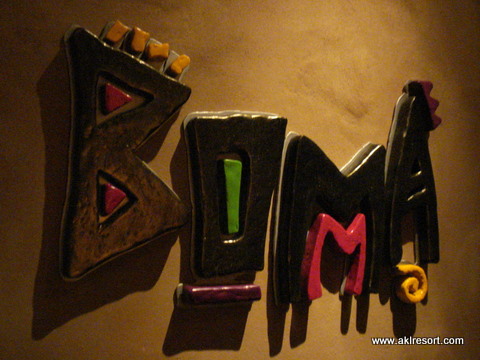 Boma – Flavors of Africa is the Animal Kingdom Lodge's mid-priced all-you-care-to-eat buffet restaurant. With the lively feeling of an African marketplace that's home to friendly servers and delicious foods, this eatery is appointed with an open show kitchen and side-by-side food stations. Be sure to take note of the massive fire spit roaster behind the carving station where large cuts of meats are cooked to perfection with love and care by the roasting chef. You'll find interesting array of African selections from the coast of the Mediterranean to the Indian Ocean. Right alongside this exotic far are good old American favorites, so everyone can find something to fill their tummies.
Located on the Lower level of Jambo House, this bustling family restaurant is a fan favorite for many Disney guests and reservations can fill up fast, especially during busy times of year. Be sure to make your advanced dining reservation for this location as soon as you can.
Breakfast at Boma is a delicious experience with over 45 dishes on the buffet that will delight both the timid eater and the adventurous. This is absolutely one of the best values on property for an all-you-care-to-eat breakfast. Though there are no characters at this location, the food is well above the average buffet. It is also home to one of the best cups of specialty coffee on property. If you love a deep, rich cup of coffee be sure to order a press pot of Boma's signature Kenyan Blend.
Breakfast Experience:
Service: Buffet
Price Level: $$ Seasonal Rates May Apply
Adult: $20.23-$24.49; Child (ages 3-9): $11.71-$13.84
Dinner at Boma is known for its variations of hummus, fire roasted meats, soups, and desserts–especially its famed zebra domes, bite-sized desserts made with espresso, kahlua, chocolate, and sponge cake. With more than 60 different dishes to chose from guest can stick with traditional American foods, or have an adventure into the flavors of Africa.
Dinner Experience:
Service: Buffet
Price Level: $$ Seasonal Rates May Apply
Adult: $35.14-$39.40; Child (ages 3-9): $17.03-$19.16
If You are on the Disney Dining Plan Boma will cost one table service credit per person.
Pricing as of 11/22/2011, holiday rates may apply, gratuity and specialty beverages not included. All information subject to change.