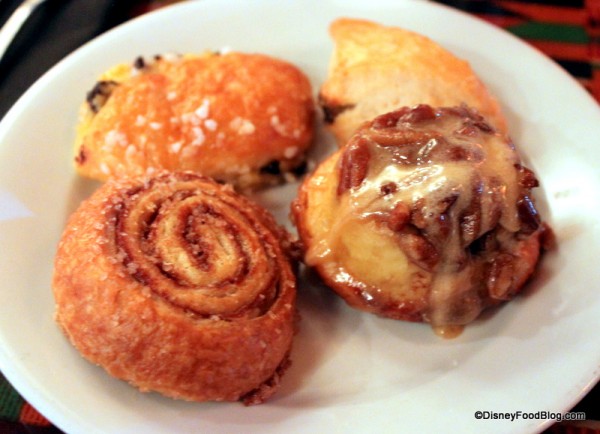 When planning your Disney vacation – whether you're a guest at Animal Kingdom Lodge or not – you should consider adding Boma – Flavors of Africa to your list of dining "must do's." Breakfast at Boma is an exceptional meal and one that you shouldn't miss. Yes, Boma is a buffet. But it's unlike any other buffet on property. And that's what makes it so special.
The restaurant is themed to look like an African marketplace and has an open kitchen where diners can view the wood burning grill and rotisserie. The buffet line is unique in itself, as it's not a traditional "line up and follow the flow" buffet. The food is presented in stations called "pods" and you are free to walk around the pods, rather than staying in one line.
And the food? Oh the food. Get ready for a dining adventure full of flavor!
First let's talk beverages, specifically coffee. Order the French press pot of Kenyan coffee. Yes, it's an extra charge but it is so worth it. If you love good coffee you won't be disappointed.
Don't go to Boma expecting to find your typical eggs and waffles buffet fare. No sir. Sure, the buffet offers omelets and pancakes and scrambled eggs (which were anything but typical). But you're also going to find a carving station serving rotisserie roasted meats like ham and turkey, pap (a white corn meal), quinoa porridge with toppings, turkey bobotie, potatoes, and corned beef hash. One item you can't pass up is the French toast bread pudding with pecan praline sauce. Try to not lick the plate when you're done, it's that good.
Eating at Boma truly gives you the chance to sample the many exotic and exciting flavors of Africa. It is truly one of those restaurants that you know you have to keep coming back to each year.
What's your favorite menu item on Boma's Breakfast Buffet? Leave a comment below and let us know!
Thanks so much to our friends at the Disney Food Blog for the use of this picture.