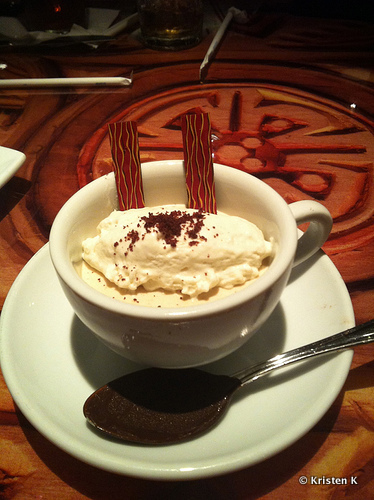 One of the most delectable desserts I have ever had, I had the pleasure of enjoying at the phenomenal restaurant Sanaa. Located beneath the Main Lobby in Animal Kingdom Lodge's Kidani Village. Disney fans are known to be fanatical about their food, and I'm sure that this is one of those legendary desserts just waiting to take off to stardom! I did a little sleuthing so that I could bring this fantastic treat to you at home.
Sanaa Chai Cream Recipe
5 1/3 plus 1/2 cups Heavy Whipping cream
1 Vanilla bean, split lengthwise and scraped, seeds removed
1 cup granulated sugar
1 (1 ounce) Envelope powdered gelatin
2 teaspoons Black chai tea, ground in a coffee or spice grinder
1 Cinnamon stick
6 Green cardamom pods
6 Whole black peppercorns
1 tablespoon Powdered sugar
1 tablespoon Semisweet chocolate shavings (use cheese grater or vegetable peeler to shave from a solid bar)
Combine 5 cups of cream, vanilla bean seeds and granulated sugar in a medium saucepan over medium-high heat. Bring to a simmer, stirring occasionally. Place 1/3 cup cream in a small bowl, and add posdered gelatin: stir to mix. When the cream-sugar mixture simmers, immediately remove from heat, and add cinnamon, cardamom pods and peppercorns.
Let mixture steep for 10 minutes, stirring occasionally. Pour mixture into a metal bowl set in a larger bowl of ice water. Cover with plastic wrap and let steep and cool for 30 minutes. Pour mixture through a fine-mesh sieve into a clean bowl. Freeze for 20 minutes, or until the mixture starts to thicken (this additional cooling allows the gelatin to set slightly so the specks fo team remain in suspension instead of falling to the bottom of the glass.)
Divide mixture evenly among 8 (5oz) glasses or ramekins, and refrigerate for at least 4 hours before serving. Before serving, combine remaining 1/2 c. cream and powdered sugar into a large bowl. Whip with an electric mixer until stiff peaks form. Dollop whipped cream onto each glass, then sprinkle with semisweet chocolate shavings. Serve immediately.
————————————————————
We're not going to leave you hanging with a complicated recipe though! For a step by step guide and in depth explanation of how to make the awesome Disney Dessert, head over to visit our friends at the Disney Food Blog for Chef Big Fat Panda's Chai Cream adventure.
One of my favorite parts of the Chai Cream Dessert served at Sanaa is that it's served with a spoon that's been dipped in dark chocolate and let to harden. As you scoop up a bite of the chai cream on your spoon and put it in your mouth the heat makes the chocolate melt ever so slightly, adding an extra layer of decadance to the dish. I could eat Sanaa's Chai Cream every day. I would also then be 500 pounds, but it would sure taste good getting to it! This dessert is sinful and delicious, go ahead and give it a try!
If you're not adventurous in the kitchen yourself, next time you're making plans for your Walt Disney World Vacation, consider at package at Animal Kingdom Lodge and stop in at Sanaa for a treat.