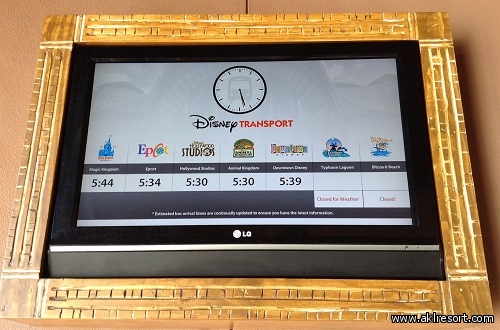 On a recent visit to the Animal Kingdom Lodge (and after a wonderful meal at Sanna) my traveling companion and I decided to take a Disney Parks bus from Kidani Village to Downtown Disney.
When we arrived at the Kidani Village bus stop I was (very) surprised to see a television screen listing the estimated arrival times for buses headed to the Magic Kingdom, Epcot, Disney's Hollywood Studios, Disney's Animal Kingdom, Downtown Disney, Typhoon Lagoon, and Blizzard Beach.
Now we all know how frustrating it can be waiting for the Disney transportation at our resorts. We watch and wait and watch and wait and do a little dance when "the bus" appears. (OK, maybe you don't do a little dance, but I do!)
So imagine how incredible it was to have this television screen at the bus stop that listed the estimated arrival times for the buses. No more guessing on what bus might be next! Another great feature is that the times do change if a particular bus is running behind or early.
As we waited for the Downtown Disney bus we watched the arrival time change twice, and once it did arrive it was nearly spot-on accurate to the time given on the Disney Transport arrival screen. I'm hoping this is an additional that we'll see across property in the near future. It's nice to take the guessing game out of Disney transportation.
Have you seen the Disney Transport screens at any other resort on property? If so, leave us a comment and let us know!
Do you love Disney's Animal Kingdom Lodge? Join fellow fans over on our facebook page and follow us on our twitter feed @DisneyHotelsFan.