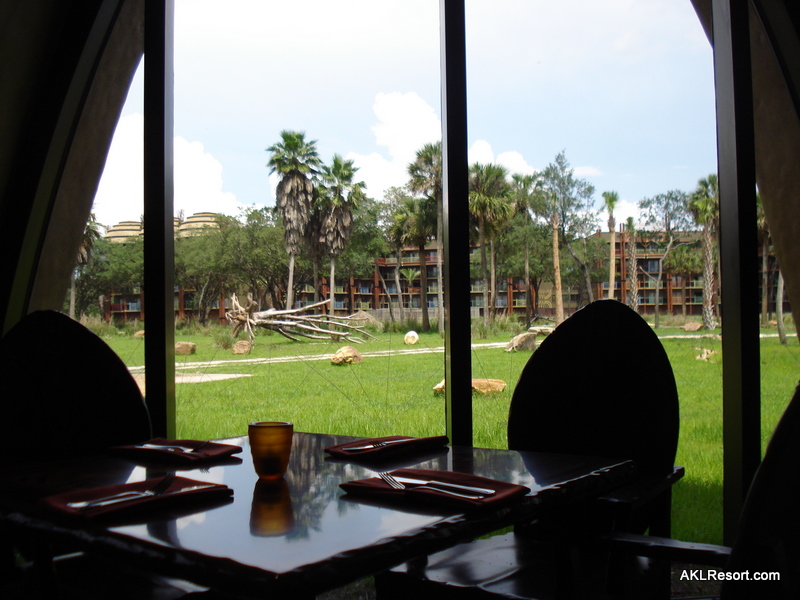 Sometimes at the Walt Disney World Resort you're lucky to find an off-the-radar restaurant where the food is delicious and the views are amazing (during the day!). At Disney's Animal Kingdom Lodge that restaurant is Sanaa.
This table service spot is located in Kidani Village at the Animal Kingdom Lodge and it's a great place for lunch or dinner. And the best part is – since it is a bit "off the grid" you can usually get reservations without little to no effort.
One of the highlights of dining at Sanaa – other than the food – is the view. The restaurant looks out on one of the savannas at Kidani Village so at any given time during your meal you might spy a giraffe or zebra.
The view of the savanna is a bit less exciting once it gets dark outside but it's still a great place for dinner.
The menu at Sanaa is inspired by the "spice routes" of Africa and India and it includes curry accents and tandoori-cooked marinated meats, as well as choices for less adventurous palates. Ethnic breads and salads are also highlighted.
We recommend the butter chicken as an entree choice. And you can't miss out on the Naan bread – it's a must-do appetizer.
What is your favorite dish at Sanaa? Let us know in the comments.
Do you love Disney's Animal Kingdom Lodge? Subscribe to the monthly Disney Hotels Fan newsletter! Join fellow fans over on our Facebook page and follow us on our Twitter feed @DisneyHotelsFan.