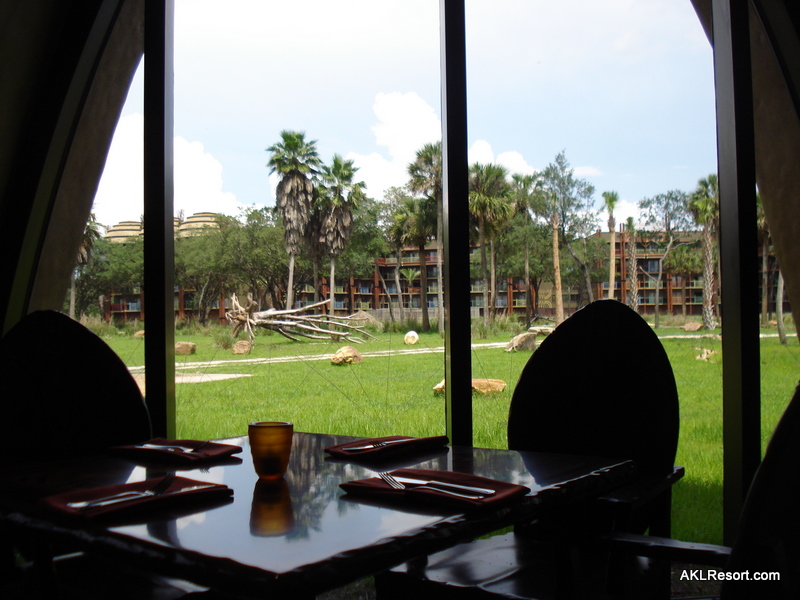 If there's one thing we can guarantee at Disney's Animal Kingdom Lodge (aside from the amazing views and incredible themeing) it's that you won't ever go hungry. There are so many delicious places to eat at this resort!
When you're looking for a quick bite to eat at Disney's Animal Kingdom Lodge, stop by The Mara. You'll find a wide variety of items that will satisfy everyone in your travel group. The Mara is named after the Masai Mara National Reserve in Africa and it's open for breakfast, lunch, and dinner.
The menu at The Mara features exotic African-inspired fare including African stew, Falafel pita, and soups. The pickier eaters in your group will also find "Americanized" items including pepperoni flatbread, chicken nuggets, and burgers.
Signature dining spot Jiko does not disappoint guests looking for a unique upscale dinner that introduces them to the flavors of the African continent. Be sure to visit hungry because there's lots to try at Jiko. You may want to begin your meal with a light flatbread, then follow with one of Jiko's interesting appetizers – we can heartily recommend the Artisan Cheeses. There are many delicious entrees and desserts on the menu too!
Boma – Flavors of Africa is the Animal Kingdom Lodge's mid-priced all-you-care-to-eat buffet . With the lively feeling of an African marketplace that's home to friendly servers and delicious foods, this eatery is appointed with an open show kitchen and side-by-side food stations. You'll find interesting array of African selections from the coast of the Mediterranean to the Indian Ocean. Right alongside this exotic far are good old American favorites, so everyone can find something to fill their tummies.
One of our favorite places to eat in all of Disney World is Sanaa! This table service spot serves some of the the freshest, most exotic flavors to be found anywhere on property and should be put on the must do list for all Animal Kingdom Lodge fans. The restaurant's menu is inspired by the spice routes of Africa and India and it includes curry accents and tandoori-cooked marinated meats, as well as choices for less adventurous palates. Ethnic breads and salads are also highlighted.
Of course you can always order room service and enjoy a meal on the balcony of your room while watching the animals wander past on the savanna!
What's your favorite place to eat at Disney's Animal Kingdom Lodge? Let us know in the comments.
Do you love Disney's Animal Kingdom Lodge? Subscribe to the monthly Disney Hotels Fan newsletter! Join fellow fans over on our Facebook page and follow us on our Twitter feed @DisneyHotelsFan.