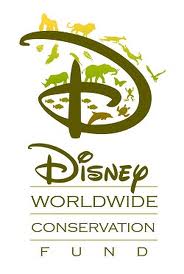 The message of Disney's Animal Kingdom and Animal Kingdom Lodge is one of conservation and stewardship for the land and it's inhabitants. To support this mission fans know that sitting next to the cash register at Animal Kingdom and Animal Kingdom Lodge every gift shop, they can buy a button or special merchandise to contribute to the Disney Worldwide Conservation Fund (DWCF). But what is the DWCF and where does the money go to?
The Disney Worldwide Conservation Fund was established on Earth Day in 1995 and is dedicated to helping scientists and communities worldwide study animals and their habitats. Working with qualified and respected nonprofit organizations both at home and abroad, the DWCF gives much needed funding to community conservation, education, science and environmental policies. Working with local and regional organizations that know the needs of their habitats best, Disney takes an active part in Florida's Conservation as well as that of African Wildlife.
Globally, DWCF has awarded $20 million to support conservation programs in 112 countries on six continents since 1995 through it's annually awarded grants. In addition to the annual award grants, Emergency funds are also set aside in order to respond to wildlife and wild places in crisis, such as communities and animals affected by natural disasters and oil spills. Communities struck by tragedy are welcome to apply for relief through the fund.
So buy a button and do your part to join Disney in preserving this world that we live in. The fund is supported by guest contributions and one hundred percent of your donation is matched by The Walt Disney Company. Together, we can make a difference.