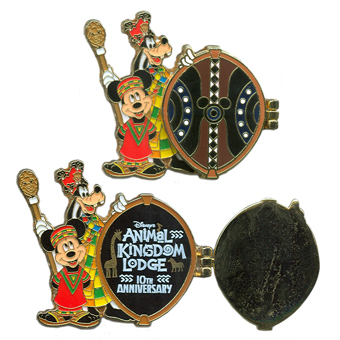 Disney's releasing a fun new pin to commemorate the 10th Anniversary of our favorite place — Animal Kingdom Lodge!
On the pin, Mickey stands with Goofy, who is dressed as "King Pin," which is a nickname given to Disney's Animal Kingdom Lodge Cast Member Wayne Moore due to his incredible passion around Disney pins and pin trading. Trade with Wayne in Zawadi Marketplace at Disney's Animal Kingdom Lodge! Goofy's shield is hinged and opens to reveal the AKL logo.
To order this pin:
* Contact Walt Disney World® Merchandise Guest Services at 407-363-6200 or send an e-mail: [email protected] to place an order.
* Please reference the SKU number(s), description of the pin(s) and quantity desired.
* Open Edition pins available for order after release date.
* Applicable sales tax plus shipping and handling fees will apply.
* All pins will be available while supplies last.
* All Limited Edition pins may not be available for ordering via Walt Disney World® Mail Order 30 days after release date based on availability.
* All sales are final – no refunds, no returns via Walt Disney World® Mail Order.
Please Note – All information is subject to change including but not limited to artwork, release dates, edition sizes and retail prices.