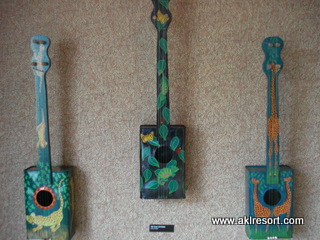 Who says staying at Disney World doesn't have to be educational?
When staying at the Animal Kingdom Lodge, you have the chance to immerse yourself into a new culture! Your child will love bringing back to school all they have learned!
Get Up Close and Personal 
Do your children love animals? At Animal Kingdom Lodge, your children will have the chance to get up close and personal with the 20 different species of animals! Make sure to grab a Wildlife Field Guide from the front desk or check you room for a guide.
Have your child create a trip journal so they can record what animals they spot and what they think of them. Get creative and have them draw the animals! Tour all of the savannas and talk to the Safari Guides, where they will be happy to answer any questions you have.
For a unique experience, make sure to visit the Uzima Savanna Overlook where you can don night vision goggles. Animals are the most active at night, so you'll be able to view them moving around.
Immerse Yourself in the Culture
Try the many activities that will let your child learn more about African traditions, food and culture.
At Jambo House, make sure to examine the medal medallions that cover the floors. The medallions are etched with African artwork. They can also participate in arts and crafts activities near the Uzima Springs Pool Deck.
Before dinner, stop by the Sunset Lounge. There, your child can learn to play an African instrument and test their wildlife knowledge with an animal expert. Then, listen to African Folktales around the Arusha Rock Fire Pit.
If you have a child that is willing to try new things, dine at Jiko for dinner! Here, you will be able to to try exotic dishes that feature ostrich meat. For the parents, Jiko offers the nation's largest offerings of South African wines.
With so many activities for your child to try, which would do you think they would like the most?
Do you love Disney's Animal Kingdom Lodge? Join fellow fans over on our facebook page and follow us on our twitter feed @DisneyHotelsFan.