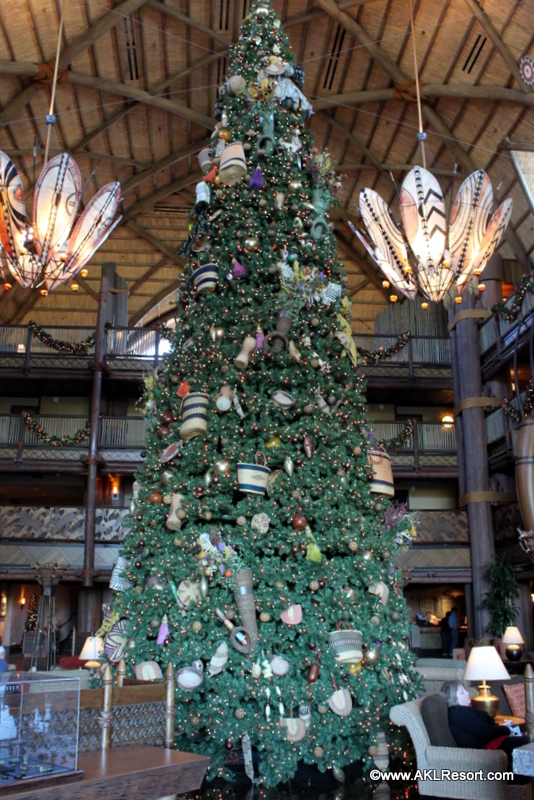 We all have our reasons for loving the Animal Kingdom Lodge – whether it's the pool, or breakfast at Boma, or the amazing views of the animals. But what makes the resort so special during the holidays?
We asked fans on our Facebook page what they loved about staying at the Animal Kingdom Lodge during the holidays and we received some great responses!
The most basic and all-encompassing answer was "everything." That sums it up quite well. Several fans said they loved the lobby and the huge Christmas tree that is set up in the middle of the lobby. One fan said the smell of the lobby was the best thing about the holidays. We think perhaps we need to inhale deeply the next time we're at the Lodge during the holidays!
Of course, if you're spending the holidays at the resort you'll want to keep in mind the great dining options. Boma's buffet is one of our favorites and they'll be hosting a special New Year's Day breakfast on January 1.
If you're dining at Jiko on Christmas Day you might have a chance to try the dorowat – an Ethiopian stew made with free range turkey. And over at Sanaa you'll find a special holiday menu on Christmas Day in addition to the regular menu.
Tell us – what is your favorite thing about spending the holidays at the Animal Kingdom Lodge? Leave us a comment!
Do you love Disney's Animal Kingdom Lodge? Join fellow fans over on our facebook page and follow us on our twitter feed @DisneyHotelsFan.