If you're a Tables in Wonderland member, you can now book a reservation for the Jiko Wine Dinner on February 11th, 2010! Here are the details. Click here for a larger image. Note: we think this will be along the lines of the Jiko Wine Dinners we've mentioned here on AKLResort.com.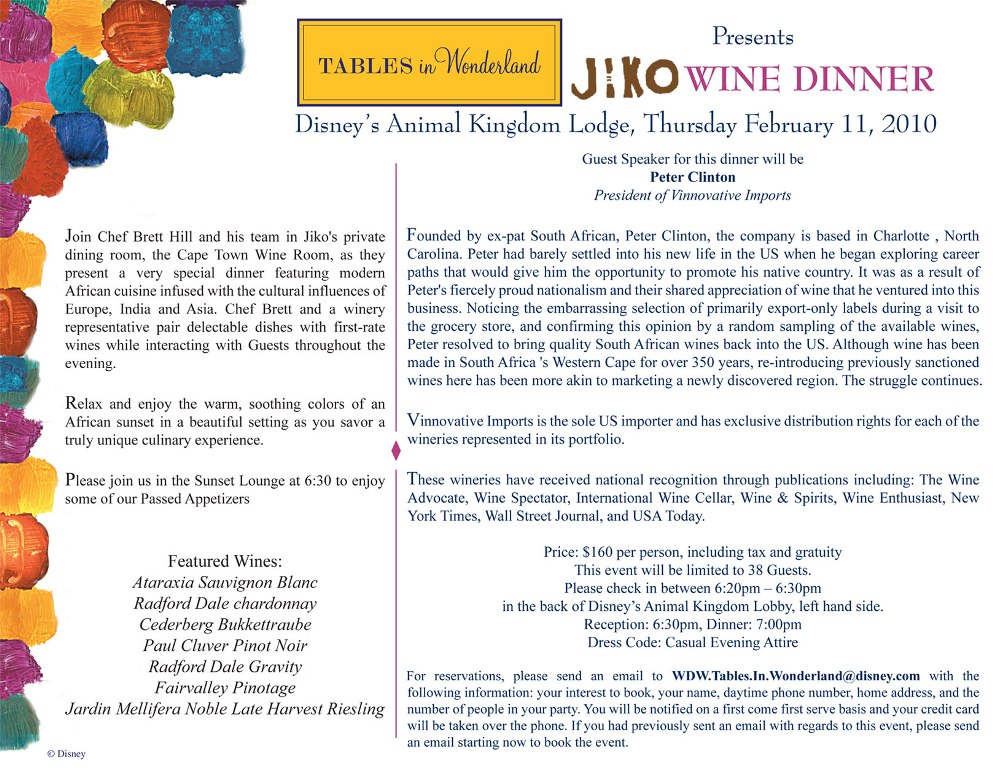 Disney's Animal Kingdom Lodge
Thursday February 11, 2010
Price: $160 per person, including tax and gratuity. This event is limited to 38 Guests.
Please check in between 6:20pm – 6:30pm in the back of Disney's Animal Kingdom Lobby, left hand side.
Join Chef Brett Hill and his team in Jiko's private dining room, the Cape Town Wine Room, as they present a very special dinner featuring modern African cuisine infused with the cultural influences of Europe, India and Asia. Chef Brett and a winery representative pair delectable dishes with first-rate wines while interacting with Guests throughout the evening. Also, join us in the Sunset Lounge at 6:30pm to enjoy some of our Passed Appetizers
Featured Wines:
Ataraxia Sauvignon Blanc
Radford Dale Chardonnay
Cederberg Bukkettraube
Paul Cluver Pinot Noir
Radford Dale Gravity
Fairvalley Pinotage
Jardin Mellifera Noble Late Harvest Riesling
Guest Speaker for this dinner will be Peter Clinton, President of Vinnovative Imports
Founded by ex-pat South African, Peter Clinton, the company is based in Charlotte, North Carolina. Peter had barely settled into his new life in the US when he began exploring career paths that would give him the opportunity to promote his native country. It was as a result of Peter's fiercely proud nationalism and their shared appreciation of wine that he ventured into this business. Noticing the embarrassing selection of primarily export-only labels during a visit to the grocery store, and confirming this opinion by a random sampling of the available wines, Peter resolved to bring quality South African wines back into the US. Although wine has been made in South Africa's Western Cape for over 350 years, re-introducing previously sanctioned wines here has been more akin to marketing a newly discovered region. The struggle continues.
Vinnovative Imports is the sole US importer and has exclusive distribution rights for each of the wineries represented in its portfolio.
These wineries have received national recognition through publications including: The Wine Advocate, Wine Spectator, International Wine Cellar, Wine & Spirits, Wine Enthusiast, New York Times, Wall Street Journal, and USA Today.
Reception: 6:30pm, Dinner: 7:00pm
Jiko Dress Code Guidelines: Casual Evening Attire
For reservations, please send an email to [email protected] with the following information: your interest to book, your name, daytime phone number, home address, and the number of people in your party. You will be notified on a first-come, first-serve basis. Your credit card will be taken over the phone once your reservation is confirmed. If you had previously sent an email with regards to this event, please send an email starting now to book the event.