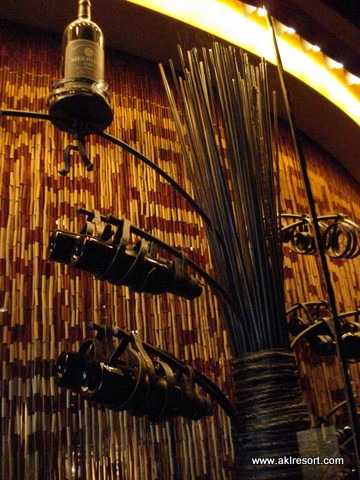 Jiko Wine Dinners: Animal Kingdom Lodge's award-winning gourmet restaurant, Jiko–The Cooking Place, holds wine pairing dinners in its private dining room from time to time — historically on the first Thursday of every month — taking advantage of the restaurant's incredible selection of South African wines (we hear it's the biggest in the nation!). Seatings are limited to a small number of guests, and are accented by discussion with Jiko chefs as well as visitig wine makers from South Africa!
The evening begins with a reception on the Asante Terrace at 6:30pm and is followed by dinner and wine pairings in the Jiko Cape Town Wine Room at 7pm.
The experience cost $180 per person for 2011 dates and is not recommended for children. The Jiko dress code applies to this experience. To learn more about or book this wonderful experience, contact WDW-DINE at 407-939-3463 and ask about the Jiko Dinner Series (NOTE: when we called, our reservationist was not aware of the dinners; keep asking. If there's one available, they'll find it!). For more specific information, contact 407-938-7149.
Update 6/6/12: The wine growing and harvest season in South Africa lasts from January thru March and dinners are scheduled accordingly. For the latest and most up to date information on all things Disney Food, keep your eyes on the Disney Food Blog for dates of upcoming special events at Jiko and across the WDW Resort Property.
All info subject to change.