The atmosphere and decor at Jiko easily make it one of the most graceful restaurants on property. This signature dining experience does not disappoint guests looking for a unique upscale dinner that introduces them to the flavors of the African continent. Be sure to visit hungry because there's lots to try at Jiko. You may want to begin your meal with a light flatbread, then follow with one of Jiko's interesting appetizers–we can heartily recommend the Artisan Cheeses.
There are several fascinating entrees to try (see the Jiko menu in the gallery below), but we were very pleased with our Jiko specialties: Fliet Mignon (this used to be paired with macaroni and cheese, and if you're missing the side dish — just order it a la carte!) and yummy short ribs. Jiko has also just introduced a new vegetarian menu with lots of choices, and always most special dietary requests can be met by simply calling ahead and discussing your needs with the Chef.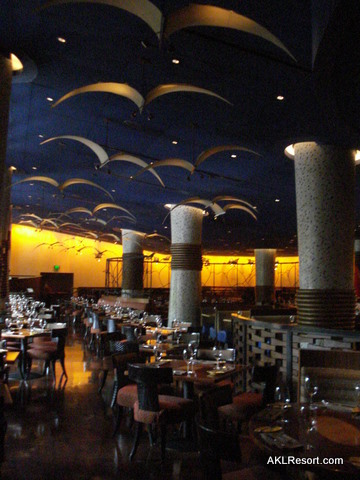 For dessert, again there are several to try. These change seasonally, as does the menu, but the chef is always dreaming up new and exciting ways to incorporate new flavors.
Every Wednesday Jiko offers an elegant Wine Tasting where guests can explore the South African wines paired with artisanal cheese. The cost is $25 plus tax and gratuity and you should make a reservation by calling 407-938-7149.
Four times a year Jiko is home to a fantastic wine dinner! These are great fun, and guests have the chance to share a meal with a representative from a South African vineyard that produces wines for Jiko's award winning wine list. The chefs prepare a 6- to 8-course meal carefully designed to complement the unique characteristics of the African terroir.
Guests staying at the ANimal Kingdom Lodge are able to call room service and ask for signature specialties from Jiko's menu delivered for private dining!
If you are using the Disney Dining Plan, dinner at Jiko will cost two table service credits per person.
______________________________
Jiko is a Disney Signature Dining Experience, which means that the signature dress code is in place at this restaurant.
Dress Code Guidelines:
Men: Khakis, slacks, jeans, dress shorts, collared shirts. Sport coats are optional.
Ladies: Capris, skirts, dresses, jeans, dress shorts.
Not permitted in dining room: Tank tops, swimwear, hats for gentleman, cut offs, or torn clothing. While T-shirts are now allowed, the policy remains that T-shirts with offensive language or graphics are not acceptable.