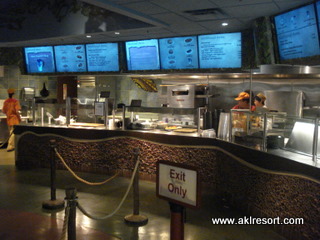 The Mara is Animal Kingdom Lodge's quick service restaurant. It's open from 6am (hot meals begin at 7am, with bakery and grab and go at 6am)-11:30pm. Here's where you grab sandwiches, chicken fingers, burgers, wraps, and refrigerated to-go items. There's a selection of fresh fruits and cereals for breakfast, and the Mara carries snacks for purchase on the Disney Dining Plan.
You can purchase Animal Kingdom Lodge reusable mugs here for about $12. Also, be sure to pick up a selection of South African wines!
The Mara is next to the Uzima Springs Pool, so feel free to grab your meal and head back to your pool chair, sit in the Mara's indoor seating, or tuck in at a covered table in the Mara's outdoor seating area.