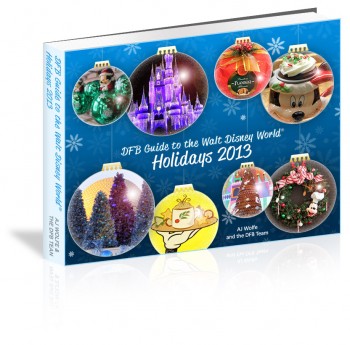 The holidays are just around the corner and just in time for your holiday trip to the Walt Disney World Resort, the Disney Food Blog has launched the 'DFB Guide to the Walt Disney World Holidays 2013' e-book!
This 270-page e-book is full of updated holiday tips and new information that you must know before visiting the parks in November, December, and January.
Author AJ Wolfe gives readers detailed descriptions and photos of every holiday event and activity, a comprehensive holiday dining section listing snacks, treats, and meals, a clickable three month schedule of holiday events, listings and photos of Disney Resort holiday décor and gingerbread displays, tips on saving money at Walt Disney World over the holidays, a new for 2013 section, scavenger hunts, and more.
Guests of the Animal Kingdom Lodge will find DFB recommendations for holiday meals, including Boma's New Year's Day breakfast, and the special Thanksgiving and Christmas Day meals at Jiko and Sanaa. The book also includes details on the resort's holiday decorations. Be sure to check out the Christmas tree outside Boma – the butterfly wings moves when they catch a breeze!
For more information and to order the DFB Guide to the Walt Disney World Holidays 2013 head over to the DFB Store.
Are you headed to the Animal Kingdom Lodge for the holidays? Leave us a comment and let us know!