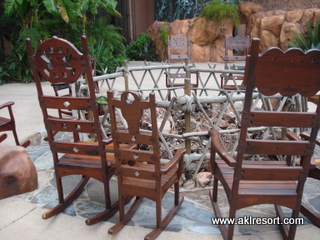 Sights, sounds and smells dominated our facebook poll when we asked, "You know you're at Animal Kingdom Lodge when…"
Sights
For many, knowing they are at Animal Kingdom Lodge is all about the breathtaking sights.
Van S. says it's "when you see the Tree of Life" in the lobby.
Cindi F. says she knows she's at AKL "when you can see a giraffe from your room." Sophie P. agrees. She says it's "when you see the pretty animals! Go giraffes! Go giraffes!"
For cast member Dréa H., it's about the first look, even when working. "When you drive up and see the breathtaking architecture, and even though you have worked there for years, it still takes your breath away," she says.
Fellow cast member Jonathan W. says it's about the culture. "When you meet the African cast members, like myself, and realise that we have different accents!" (Author's note: We kept that African 'realise' in Jonathan's quote for extra emphasis! Ha!)
Smells and Sounds
For many of our fans, it's the unique smells and sounds of Animal Kingdom Lodge that lets them know, "I'm here!"
For Cynthia G., it's about the smell of food at the restaurants. For Anna V. and Jennifer K., it's about the firepit, which Jennifer called "toasty." And for Barbara E., it's simply, "the scents!!"
For Denni J., the special moment is when she hears "the beat of the drums." Nicki L. agrees, adding it's when "you hear the parade of drums at 8 p.m."
Glenda C. says her "I'm here" moment is "when you hear the piped-in African music, and rub the wooden door at the entrance for luck!"
Chris S. puts it well when he says it's "when you hear the trickle of water – and the soft smooth tones of the African Plain – ahhhhhh – I would love to be by the fire tonight!" Us too, Chris!
For others, it's about that special combination of smell and sound sensory overload.
Karen C. says for her, it's when "you get a whiff of the firepit…and hear the music!"
And Mike D. says his special combo is "smell BOMA; hear the African music playing outside."
Everything
Stephanie C. puts it simply. She knows she's at AKL "when everything is just awesome."
Finally, Anne G. paints a beautiful picture that sums up the sensory overload "I'm here!" aspect of AKL for all of us: "You walk through the main doors. No matter how many times you have been there, you just look up as soon as you enter. That lobby is amazing! The smells coming from Boma, the fire pit, the sounds of a drum beating, the colors, the artifacts, it's all a feast for your senses. And then they say, 'Welcome home' and you feel like you are."
We hope you can close your eyes and imagine being there now! What's your AKL "I'm here!" moment? Share in the comments below!
Do you love Disney's Animal Kingdom Lodge? Join fellow fans over on our facebook page and follow us on our twitter feed @DisneyHotelsFan!
This post is part of the DisMarks Disney Blog Carnival! Check it out for more great Disney-related content and information.