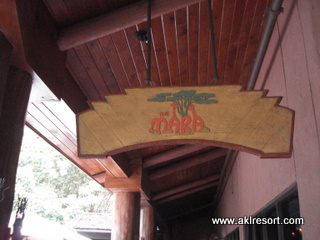 When you're looking for a quick bite to eat at Disney's Animal Kingdom Lodge, stop by the Mara. You'll find a wide variety of items that will satisfy everyone in your travel group.
Mara is named after the Masai Mara National Reserve in Africa and it's open for breakfast, lunch, and dinner. Located next to the Uzima Springs Pool at the Jambo House, Mara is a great place to stop on your way to or from the pool.
The restaurant has a large indoor seating area in addition to outdoor seating (with umbrella tables). The indoor seating area has a lovely decor and theme and if you look up you'll notice that it looks like you're sitting under a canopy of trees.
The menu at Mara features exotic African-inspired fare including African stew, Falafel pita, and soups. The pickier eaters in your group will also find "Americanized" items including pepperoni flatbread, chicken nuggets, and burgers.
Mara features a grab-and-go section in addition to a wine area where you can purchase bottles of wine. There is also a nice bakery section where you'll find pastries and other baked goods including delicious cupcakes. If you're looking for the fan-favorite Zebra Domes you might find them in the refrigerator with the other cold desserts and beverages.
Our friends at the Disney Food Blog have a great review of Mara. Be sure to check it out before your next visit.
Let us know what your favorite item is from Mara!
Do you love Disney's Animal Kingdom Lodge? Join fellow fans over on our Facebook page and follow us on our Twitter feed @DisneyHotelsFan.