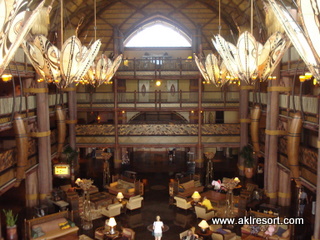 Here's a taste of some of our reader's favorite memories from Animal Kingdom Lodge:
"The minute my husband and I walked in and saw the beautiful lobby. And when our room wasn't ready yet the very nice lady at the desk gave us complimentary concierge service for our entire stay! She even walked us to the elevator and showed us how to use the card. I love Disney!" – Adrianne S.
"The giraffe named Jay who never came over near our room during the day but slept outside our room every night." LaTasha H.
"The first sunrise from our balcony at Kidani Village and my son's friendship with one of the lifeguards at Kidani. He has remembered my son on each visit we've made so far!" -Tom D.
"Escaping the heat to relax in the cool, dark lobby, then eat at Boma or Jiko and rub the wood carving at the door on your way out." -Michelle P.
Want to read more reader memories? Head over to our Fan Stories, Reviews and Photos page!
Do you love Disney's Animal Kingdom Lodge? Join fellow fans over on our facebook page and follow us on our twitter feed @DisneyHotelsFan!