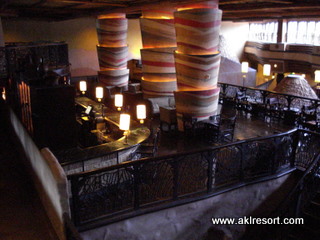 Victoria Falls Lounge is a relaxing oasis — complete with indoor waterfall — just off the Animal Kingdom Lodge lobby overlooking the Boma restaurant. The open-air atmosphere makes it a great place to relax and people-watch in the lobby or below in Boma.
Even if you have a reservation at Boma or Jiko, it can still take a few minutes to get seated, so take your flashy buzzer thing and head upstairs to enjoy an adult beverage at Victoria Falls.
At Victoria Falls, you'll find South African wines (try the Goats do Roam or Fairview varieties if they're available) as well as beer, martinis and other mixed drinks.
If you're lucky, your bartender may know how to mix up a Victoria Falls Mist, which Disney Food Blog recently listed as one of five drink to try at Disney World. The Victoria Falls Mist used to be on the menu at the lounge, but is now only on the Jiko menu.
Victoria Falls is also a great pit stop before heading out to the parks in the evening, and a great place to unwind after putting the kids to bed.
Grab a libation and head over to the Ogun's Fire Pit next to the lounge, or out to the Arusha Rock Fire Pit just outside the lobby. If you time it right, you'll catch the nightly storytelling around the fire pit, at 7:30 p.m.
Do you have a favorite bartender or drink from Victoria Falls? Leave a comment below!
Do you love Disney's Animal Kingdom Lodge? Join fellow fans over on our facebook page and follow us on our twitter feed @DisneyHotelsFan