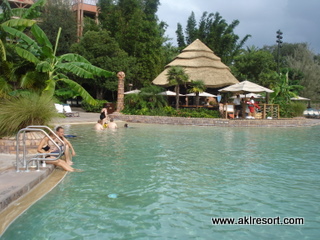 We all know how much fun it can be to head to Disney World for a fun filled family vacation, but what if you're looking for a short adult retreat? I say Animal Kingdom Lodge is the perfect place for a relaxed and grown up weekend. But Disney without the Parks? Sure! This Resort has plenty to keep you busy.
Check out this sample itinerary for a romantic weekend retreat.
Friday
4:00PM Check in to this AAA Four Diamond Resort for a special weekend get away.
Make Advance Dining Reservations for a spectacular signature dining experience at Jiko. Take your time and savor this fine dining experience. Speak to the sommelier for recommendations on wonderful wine pairings.
At 8:30 PM in the Sunset Lounge Cultural Ambassadors discuss their native homeland in a 30 minute presentation.
The Uzima Springs Pool is open late, enjoy the hot tub under the stars.
Grab a Night Cap at Victoria Falls before returning to your room.
Saturday
Breakfast is an adventure when you dine at Boma. Indulge in this bountiful buffet to start your day off right.
After breakfast be sure to browse through the Zawadi Marketplace for some resort shopping.
Next head to the Uzima Springs Pol where you can swim, relax in the sun with a cocktail, or take a dip in the tranquil bubbling spa.
Enjoy watching Animals on the Savanna or relaxing in a Rocking chair around the firepit.
The award winning Zahanati massage and fitness center is at your service. Schedule a tranquil aromatherapy massage to relax your body and invigorate your mind.
At 4pm you can join a cultural guide at BOMA for a tour of the restaurant at Animal Kingdom Lodge.
Why not head to Downtown Disney and explore an evening of entertainment and dining. Date night at Disney offer a myriad of options so why not choose dinner at the House of Blues can be combined with a late showing of Cirque du Soleil's La Nouba.
Sunday
Sleep in and relax, you've earned it.
Call private dining for a luxurious breakfast in room. Enjoy the animals on the savanna from your balcony. Our menu suggestion, try the Apricot Stuffed French Toast with fresh berries or create your own omelette.
11:00AM – It's time to Check Out. Disney's Magical Express is waiting to return you to the airport.
You have to head back to reality sometime, but we hope that you enjoyed a fabulous resort weekend at the Animal Kingdom Lodge! A weekend escape to Disney can be a relaxing and romantic. Why not book your romantic weekend in Orlando right now?
We'll See You real Soon!