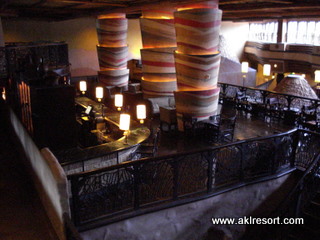 If you're looking for a romantic location at the Walt Disney World Resort the Animal Kingdom Lodge should be top on your list. From the lush landscaping to the breathtaking decor, this is a perfect hotel for a romantic getaway or even a marriage proposal.
There's something very romantic about waking up with a savanna just outside your window. If you're enjoying a romantic week (or weekend) for two, we suggest ordering room service at least once during your trip and enjoying breakfast as the sun rises over the savanna.
And if you're looking for a romantic meal you can't beat dinner at Jiko. The decor of the restaurant is pure romance! The sun even "sets" in the restaurant in the evening, giving diners a glimpse of an African sunset. Add a wine pairing with your meal for the ultimate romantic dinner for two.
Sanaa is a bit less elegant than Jiko but it's still a favorite spot for a nice dinner for two. Request a table by the window (but make sure you're dining before sunset) and you can watch the sun set on the savanna.
Victoria Falls Lounge is another favorite location for couples looking for a romantic spot. It's one of our favorite spots to sip on a cocktail or a glass of wine either as a nightcap or before dinner at Jiko.
If you happen to be vacationing with the whole family but you need some "grownup time" you can make a reservation for the kids to spend some time at Simba's Cubhouse. They'll enjoy games, movies, and even dinner while you enjoy a romantic dinner at Sanaa or Jiko.
And if you're heading the Animal Kingdom Lodge for a surprise proposal, you'll find several romantic spots for a perfectly magical marriage proposal! We suggest the Arush Rock firepit, one of the savanna viewing areas, or perhaps during that romantic meal at Jiko.
Do you love Disney's Animal Kingdom Lodge? Subscribe to the monthly Disney Hotels Fan newsletter! Join fellow fans over on our Facebook page and follow us on our Twitter feed @DisneyHotelsFan.