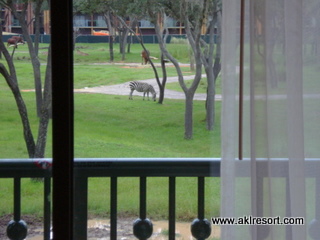 Animal Kingdom Lodge's room service menu is like other deluxe Disney Resort room service menus–they pull significantly from the full-service restaurants (Boma and Jiko in this case) and add on some standards: pizza, chicken, kids' menu, etc.
However, also like other deluxe resorts, AKL does offer a few unique and out-of-this-world experiences for its hotel guests. One of our favorites is a four-star meal delivered to your room and set up on your balcony overlooking the savanna. A lovely way to end an evening! We suggest you order directly from Jiko's menu–the filet is one of our favorites!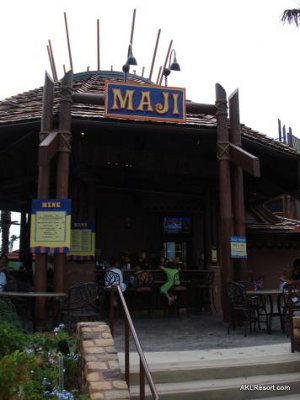 NEW! Pool-side Dining at Kidani Village: As Disney's first foray into pool-side dining (besides the non-Disney-run Swan and Dolphin resorts), I hope this continues! Maji Pool Bar now offers "private dining," or room service, to its pool-side patrons. Simply order via house phone at the Maji Pool Bar at Samawati Springs pool area, and you'll receive your food pool-side (they recognize you via a large, plastic number you display next to you) in a lovely Bento Box. Choices include Tandoori Chicken, Tandoori Angus Chuck Burger, Club Sandwish, Dum Biryani, Grilled Pork Chop, Tandoori Sustainable Fish, and Slow-cooked beef short ribs (which I can highly recommend!). Most items are served with Naan Bread.