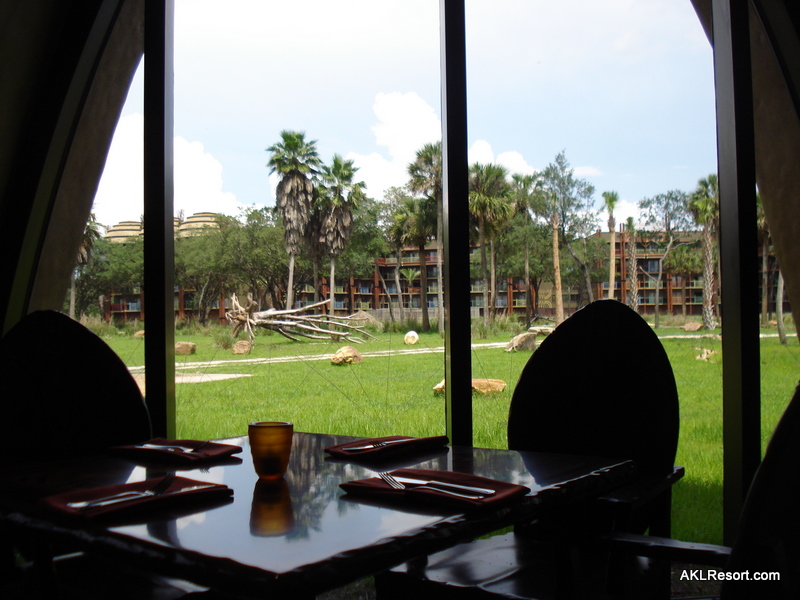 Back in the fall, we told you about the new quick service breakfast available at Sanaa in the Kidani Village. Today we have an update on the breakfast.
The Sanaa Kuamsha Breakfast is now available on a permanent basis at Sanaa.
The casual, quick service breakfast is available daily from 7-10 a.m. and guests can get made-to-order meals in addition to grab-and-go items.
Entrees include: the Boere Breakfast, which features two eggs any style, tomato chutney, Tanzanian hash browns, bacon, Boerewors sausage and a Johnny Cake; a Safari Waffle with seasonal berries and a Chai whipped cream; and Fruit Sosatie.
Other options include a Sunrise Sandwich and kid-friendly choices. Press pot coffee is also available (that's enough to get us there!). Grab-and-go selections include: yogurt parfait, fruit plate, boerewors sausage and egg bobotie pie, banana bread with house-made African chocolate-hazelnut spread, African breakfast cereal, pastries, and fruits.
Guests will place their orders at the counter and choose a seat in the restaurant. Once the meal is ready a cast member will deliver it to your table.
Are you planning to check out the new quick service breakfast at Sanaa? Let us know in the comments.
Do you love Disney's Animal Kingdom Lodge? Subscribe to the monthly Disney Hotels Fan newsletter! Join fellow fans over on our Facebook page and follow us on our Twitter feed @DisneyHotelsFan.