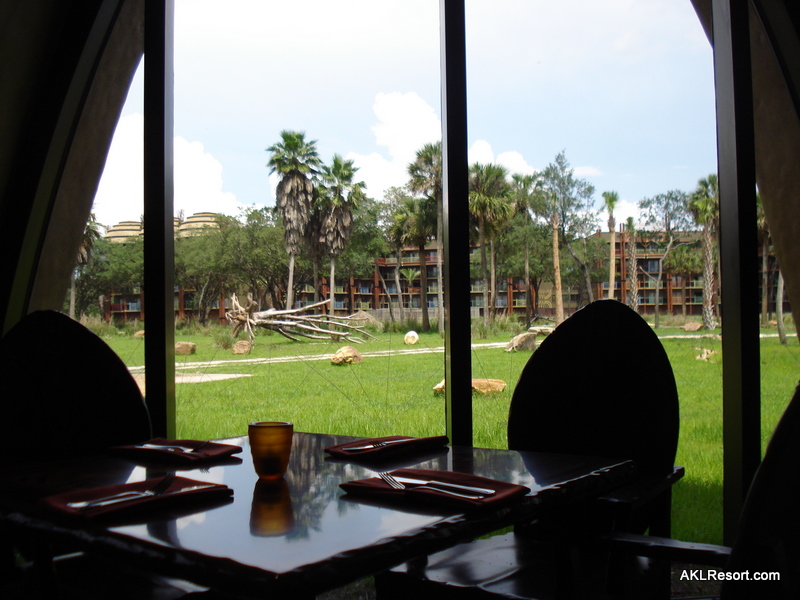 The Animal Kingdom Villas' fantastic table service restaurant, Sanaa (pronounced Sa-NAH), is now open! Sanaa serves some of the the freshest, most exotic flavors to be found anywhere on property and should be put on the must do list for all Animal Kingdom Lodge fans. It's whimsical decor sets the mood for a fun experience of drumming, animal viewing, and delicious culinary explorations.
The menus (see above for a link) are inspired by the "spice routes" of Africa and India. It includes familiar cultural tastes, including curry accents and tandoori-cooked marinated meats, as well as choices for less adventurous palates. Ethnic breads and salads are also highlighted. The restaurant is open for lunch and dinner, and prices range between $5 and $30. If you are on the Disney Dining Plan Sanaa will cost one table service credit per person. There is also a full wine menu!
Sanaa is best visited before the sun goes down so that you can experience the spectacular savanna view from it's large floor to ceiling windows. Shortly after the buildings of Kidani Village were completed two Crowned Cranes (who have been named Wilbur and Ruben) hopped the savanna fence and decided to make this area right next to the windows their home. These two lovely birds entertain guests sitting next to the windows with their shenanigans. Also, at lunch time the animals on the sunset savanna tend to be very active and lively making for a fun dining experience. The lunch menu, though similar to dinner is more friendly to less adventurous eaters as well.
Dine with Animal Specialists is an "Untamed" Lunch at Sanaa: Wednesdays at 11:30 you can join Disney's Animal Specialists at Sanaa for an fun, interactive lunch. $49 for adults. $29 for children (ages 3-9). This experience is recommended for guests ages 8 and above. For reservations, call (407)938-6922, or visit the concierge desk.
Are you looking for more information about Sanaa? Check out our Blog Posts!
Examples of some of the dishes are below. Be sure to see the image gallery at the bottom of the page for photos.
–Lamb Kefta with Tamarind and Papaya Sauce
–Mustard seed-crusted Scallops with a coconut cream sauce
–Dum Biryani, Fresh vegetables and basmati rice, wrapped in bread dough served with pineapple raita
–Grilled Flank Steak, with spinach and mushroom pancake served with oven-dried chutney
–Spice-Crusted Cornish Game Hen with turnips and cherries
–Tandoori Chicken served with basmati rice or seven-grain pilaf
–Tandoori Lamb Chops served with bsmati rice or seven-grain pilaf
–Banana Leaf-wrapped Sustainable Fish with ginger and pickled lime served with basmati rice or seven grain pilaf
–Grilled Pork Chop Loin, glazed with pickled lime and ginger served with sauteed spinach