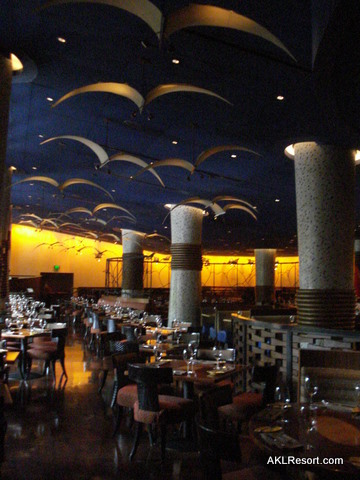 One of my very favorite things about staying at Disney's Animal Kingdom Lodge is that it can be peaceful and remote, even though it sits in the middle of one of the worlds leading tourist attractions. I could spend an entire vacation simply lounging around the resort eating the amazing food and soaking up the sun.
Zahanati Massage Center – This 2011 Conde' Nast Traveler Readers Choice Award winning spa offers customized massage, skin care, and body treatments. Indulging yourself in a massage or body wrap, at this spa run by Niki Bryan Spas, is the perfect way to calm down and unwind for the stress of the everyday world. It's best to make your appointment as far in advance as possible by calling 407.938.4715.
Uzima Springs Pool – It's a tough choice when deciding which of the pools is the best place to relax at. However I just adore being in the middle of everything (Boma, Mara, Arcade, Playground, Fitness Center Animal Viewing) and still have the opportunity to feel transported to another place. The zero depth entry Uzima Springs pool is surrounded by layers of greenery and offers ample lounge chairs. Hidden hot tubs beckon for a lengthy soak to soothe tired muscles after days in the park.
Firepit at Arusha Rock – Weather permitting, each night around 7:15pm you can slip into a comfortable rocking chair and listen to the native cast members weave tales of their homeland. Gently rocking next to the fire, beneath a sky full of a million stars.
Victoria Falls Lounge – Offers a surprisingly out of the way retreat just off of the lobby. With sofas and deep comfortable chairs it's a lovely place to slow down with a cocktail and grab a quick bite of crisp breads with African dips.
Jiko – Leisurely fine dining in a modern African atmosphere, Jiko
offers a sublime meal accompanied by some of the best wines that South Africa has to offer. The dim lighting and soft music makes this a great place to have a quiet meal with your loved one. I especially enjoy Jiko after the sun has gone down.
Next time you're shopping for a Walt Disney World vacation package for a trip to relax on, don't forget these five fabulous spots at Disney's Animal Kingdom Lodge and Villas.