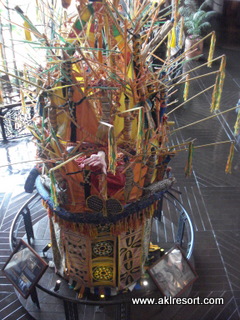 5. Uzima Springs Pool area.
Uzima Springs is arguably one of the best pool areas on Disney World property. You can't go wrong with the large zero-entry pool with slide, two Jacuzzi hot tubs, children's wading pool, and one of our favorites, the Uzima Springs Pool Bar. And who doesn't love the unlimited towels? And a great plus is that close at hand are the arcade, laundry and Mara counter service restaurant. Click here to see photos of the Uzima Springs Pool!
4.: Igbo Ijele mask and other African art.
There are more than 400 pieces of authentic African artwork displayed throughout the Jambo House lobby, not to mention the thousands of pieces of art in guest rooms. The crowning achievement of the collection is the Igbo Ijele mask in the lobby, created by the Igbo tribe, which measures more than 16 feet tall. The mask signifies an important event or celebration and makes very rare appearances. No other Ijele is known to exist outside of Igbo land.
3. AKL Resort food options.
It's not just the quality of the food at Animal Kingdom Lodge, which is among the very best at Disney World resorts, but the sheer array of options available that puts this on our list! Reservations can be hard to come by at some of the resort's restaurants due to their popularity among WDW guests. With a choice of three table service restaurants – the signature restaurant Jiko, the Boma buffet, or the Indo-African Sanaa – you're simply spoiled as an AKL guest! Not to mention the great Mara counter service and the great Victoria Falls lounge. You can even take a tour of Boma and Jiko – click here for more information!
2. Ogun's Fire Pit and Arusha Rock Fire Pit.
Unique to Animal Kingdom Lodge are two fire pits, great for relaxing after a long day. The Arusha Rock Fire Pit is located outside near the Arusha Savanna and plays host to a nightly interactive African folktale for the whole family, which starts around 7:15 p.m., weather permitting. Ogun's Fire Pit is located in the lobby, next to Victoria Falls Lounge, and is a great place to unwind with a South African wine or other libation of choice.
1. The Animals!
The number one reason to stay to Animal Kingdom Lodge is its namesake – the array of exotic and beautiful animals available for 24/7 viewing. Even if you don't opt for a Savanna view guest room, there's plenty of options available to you to see the wildlife around the resort. Try the nighttime vision goggle viewing of the animals on the Uzina Overlook, or for an extra cost, try one of the three safari excursions available. Click here to find out which Animal Kingdom safari is right for you.
Do you love Disney's Animal Kingdom Lodge? Join fellow fans over on our facebook page and follow us on our twitter feed @DisneyHotelsFan!
This post is part of the DisMarks Disney Blog Carnival! Check it out for more great Disney-related content and information.