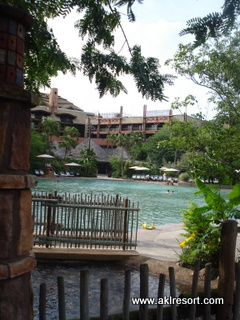 The Uzima Springs may be one of the most lush and elegant pool areas on all of the Walt Disney World Property, this beautiful Oasis on the savanna is truly an exceptional perk to staying at the Animal Kingdom Lodge. Uzima Springs includes a large, free-form, zero-entry swimming pool, with a slide, a children's wading pool, two secluded jacuzzi hot tubs, and the Uzima Springs Pool Bar. There's ample seating of comfortable lounge chairs and several tables with umbrellas located around the pool, and it offers unlimited towels and life-jackets to guests using the facility (life-jackets must be secured with a room key and/or driver's license).
The pool is located on ground floor of the Zebra Trail and is surrounded by the hotel's arcade, spa and fitness center, and restaurants with outdoor seating for the Mara located pool side. In addition you'll also find a children's playground and a flamingo habitat within the Oasis of Uzime Springs.
Due to the close proximity of Uzima Springs to the Uzima Savanna there is no pool hopping allowed to this facility. The no hopping rule even goes so far as to restrict the use by DVC members to only those staying at the Animal Kingdom Lodge Villas. This rule is meant to ensure the safety and security of the Animals that make their home here.