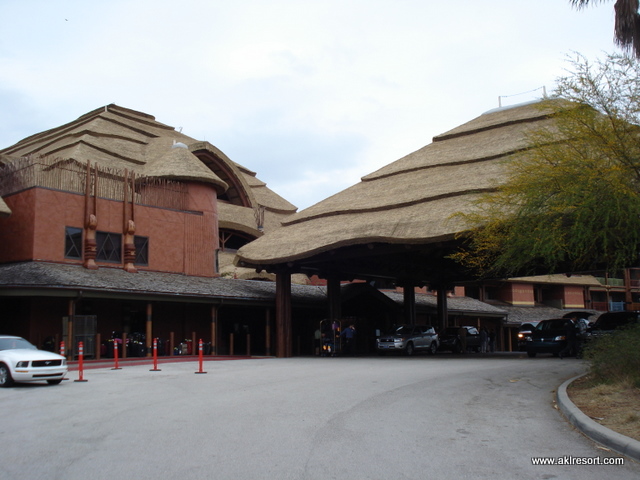 There are some little luxuries that just make staying at a Walt Disney World Resort Hotel nicer than everywhere else. One of my favorite luxuries at the Animal Kingdom Lodge is Valet Car Service. Offered at both Jambo House and Kidani Village, for just $12 a day using the valet provides you with door to door access to your vehicle and includes in and out privileges at all of the Deluxe Walt Disney World Resorts.
It's the easiest way to park the car and head off for fun, or simply use it to drop your car off right at the hotel's front door when you're tired at the end of the day.
Once you have entered the resort grounds drive up under the Hotel's porte-cochere, which is often marked with a sign saying "resort check-in." Put your vehicle in park and lower your window. When a Cast Member approaches simply let them know that you would like to valet park. Leave your keys in the car and step out.
The attendant will ask you for your name and write it on a small numbered envelope that will be used to hold your keys once the car is parked in the lot. You should receive a stub from the envelope to keep as your receipt. All vehicles are logged into a computer system, that keeps a record of your receipts number and allows for in and out privileges at all of the Deluxe Resorts.
When you want you vehicle, simply return to the valet desk and let them know. If you haven't paid for the day yet, you will do so at that time.
It's always a nice idea to tip the attendant that deals directly with your car, I usually tip $2 to anyone who handles my car, more if they're dealing with my luggage as well.
Tables in Wonderland cardholders with an Advance Dining Reservation at the resort receive complimentary valet parking
All guests who have a current handicap license plate/tag also receive complimentary Valet Parking at all Deluxe Resorts.
This post is part of Disney Blog Carnival #46
Blog Carnival For all the latest in Disney News & Views!