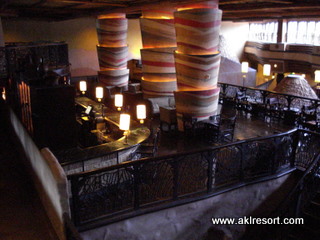 One of our favorite places to relax at Disney's Animal Kingdom Lodge is Victoria Fall Lounge. And recently the fan-favorite lounge debuted an all-new menu.
The new menu pairs African and Indian flavors and includes a plate of artisanal cheeses with Marcona almonds, honeycomb, Egyptian flowers, and wild strawberry gastrique; tandoori chicken wings; and pork "wings" with tamarind barbecue sauce, crispy onions, and cilantro.
Other new menu items include African-inspired tapas with dates, cumin green olives, sambal Calamata olives, sea salt pistachios, lemon artichoke hearts, and sautéed feta cheese.
There's a new bread service option served with oak-grilled pappadam, South African sea salt crisps, wheat pita, and house-made lavosh all served with hummus, mango chutney, lentil spinach, and citrus spread.
Have you had a chance to sample any of the new items at Victoria Falls Lounge? We would love to hear about it!
Do you love Disney's Animal Kingdom Lodge? Subscribe to the monthly Disney Hotels Fan newsletter! Join fellow fans over on our Facebook page and follow us on our Twitter feed @DisneyHotelsFan.