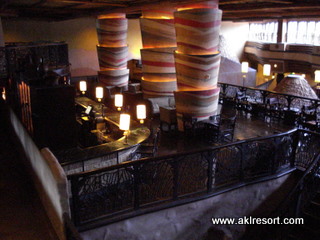 Victoria Falls is the Bar/Lounge at Animal Kingdom Lodge. Its open atmosphere offers views of bustling restaurant Boma and bits of the grand Animal Kingdom Lodge lobby.
Enjoy a glass of South African wine–Victoria Falls has several–or indulge in your favorite martini, beer, or mixed drink. If you're waiting for a table at Boma or Jiko, or just stopping in on your way out to the parks, grab a quick bite of crisp breads and African dips.
In the middle of everything, Victoria Falls is a comfortable oasis of sofas and deep chairs where you can take a breather before heading back into your busy vacation.