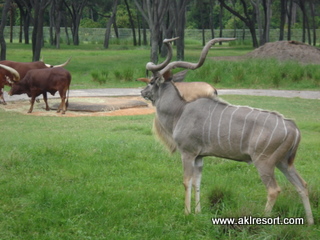 Read on to find out the differences between the morning Sunrise Safari, the evening Wanyama Safari, and the Wildlife Discovery Excursion, and figure out which you should choose for your next stay at Animal Kingdom Lodge.
If what you're wanting is great animal photo ops and fine dining, then the Wanyama Safari should be your pick. Formerly offered only to AKL club-level guests, this three-hour luxury adventure is now available to ALL Animal Kingdom Lodge guests. It's a sunset safari through the Animal Kingdom Lodge savannas promising great photos of animals, followed by a family-style feast at Jiko. My mouth is watering just thinking about the oak-grilled filet Mignon!
The Wanyama Safari is offered at 4 p.m. daily for a cost of $170, including gratuity. Considering that just dinner alone at Jiko could set two adults back more than $100 easily, we think this safari is worth it should you have the funds.
Click here for the official Disney Parks blog's account of the Wanyama Safari.
If you want to see the animals while they're most active in the morning hours, you should opt for the Sunrise Safari. The Sunset Safari Breakfast Adventure is available only to club-level guests at Animal Kingdom Lodge. It's offered on Sundays and Thursdays, departing from the Lodge at 7:30 a.m. Why depart the Lodge? Because this adventure is held on the savanna of Kilamanjaro Safaris inside Animal Kingdom.
The safari takes 30-45 minutes as guides describe animal in depth. Afterwards, you'll get private breakfast seating at Pizzafari inside Animal Kingdom. The price for this adventure is $65 per adult and $32.50 per child. The Sunrise Safari is a great choice for early birds!
If you want to learn about the care and feeding of the animals, you should try the Wildlife Discovery Excursion. This animal encounter is an information-packed tour through Harambe Wildlife Reserve inside Animal Kingdom, available to club-level guests at ALL Walt Disney World resorts. This special one-hour tour is meant to give guests info on how the animals are cared for at the savanna.
Tours depart twice daily Tuesday-Saturday, and a portion of all proceeds benefit the Disney Wildlife Conservation Fund. Cost is $50 per person. This should be a great choice if you have an aspiring vet or zookeeper in your family!
Do you love Disney's Animal Kingdom Lodge? Join fellow fans over on our facebook page and follow us on our twitter feed @DisneyHotelsFan!