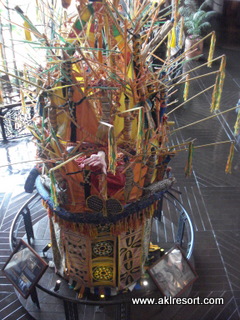 Did you know that Disney's Animal Kingdom Lodge is home to the largest collection of African Art outside of the African Continent? What a special treat for guests who chose this spectacular hotel for their Walt Disney World Vacation.
Showcasing almost every aspect of traditional African culture, the lodge plays host to over 380 museum-quality art pieces that can be seen by visitors and guests as they enjoy the vast public spaces throughout the resort. That's just the beginning though, because inside the guest rooms you'll find more than 4,000 handcrafted pieces that decorate these private spaces.
Mary Hannah and Charles Davis were art consultants hired by Disney to bring this spectacular collection together for guests to enjoy. She worked on the inspiration that they would be showcasing Africa as "a vast continent full of gifted and culturally diverse people." Many Animal Kingdom Lodge Resort fans know that the "centerpiece of the resort's collection is the Igbo Ijele (pronounced e-bo e-gelay) mask, featured in the lobby."
"The Ijele, created by the Igbo people of Africa, is a massive creation that towers more than 16 feet tall and is eight feet in width. In Africa, the mask signifies an important event or celebration and makes rare appearances. No other Ijele, which is the largest mask in tropical Africa, is known to exist outside of Igbo land." You'll often find a Disney Photo Pass Photographer standing in the area surrounding it just waiting to take your picture with this unique display.
Guests who have been enchanted by Animal Kingdom Lodge's extensive collection are welcome to take home a piece of this remarkable collection by stopping in to the Zawadi Marketplace that carries authentic woodcarvings, baskets, hand-painted dishes, batik fabrics and hand-made jewelry created by African artisans.
Interested is seeing more? Browse Through our General Resort Gallery for a look at many of these beautiful works.
Overall this is a stunning cultural treasure that's been curated by Walt Disney World in a way that makes it accessible and friendly for all how view it. What better place to book your vacation package than in this hub of cultural iconography from the other side of the world.
Do you love Disney's Animal Kingdom Lodge? Join fellow fans over on our facebook page and follow us on our twitter feed @DisneyHotelsFan.