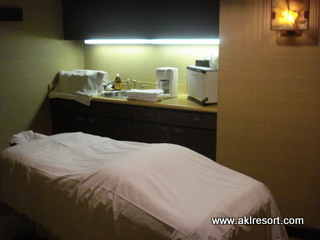 **Update** All WDW Spas will become Disney owned and operated in January 2013. More details to come.
Zahanati Massage Center is located on the first floor off Giraffe Trail and Uzima pool. The massage center offers massage therapy, skin care and body treatments and features saunas and steam rooms for men and women. Currently run by Niki Bryan, Spa services include a surcharge and are by appointment during the hours of 8:00 a.m. to 7:00 p.m. In addition to services provided at the Massage Center, arrangements can be made for private in-room massages.
Massage Services
Swedish Massage 25, 50 & 80 minutes $65/$90/$140
Enjoy a relaxation massage of traditional long strokes and kneading techniques. This therapy increases circulation, soothes tired muscles and relaxes the body.
Firm Pressure Massage 50 minutes $105
Your therapist will utilize their experience in different techniques to relax you and relieve the symptoms of built up tension in the muscle tissue. Using Deep Heat oil to penetrate the muscle allows a greater level of relaxation. This is a moderate to firm massage.
Aromatherapy Massage 25, 50 & 80 minutes $80/$105/$155
You and your therapist create a customized Swedish massage with the added benefits of pure aromatic, herbal essential oils. Facilitates relaxation and soothes muscles strained from overwork.
Skin Care
European Aromatherapy Facial 50 minutes $100
Let exotic aromas relax your mind, while herbal ingredients cleanse and nourish your skin. Experience a deep-cleansing and relaxing mini-vacation for your skin. This facial is customized for all skin types.
Gentlemen's Facial 50 minutes $100
A deep-cleansing and purifying facial designed especially for men. Great for skin irritated by shaving and exposure to the weather. A hydrating treatment that leaves your skin smooth and refreshed.
My First Facial 25 minutes $65
A mini facial especially designed for our young guests, 10-14 years of age, to introduce the basics of good skin care. A fun and educational primer for a lifetime of healthy skin.
Body Treatments
Aromatherapy Massage and Body Wrap 110 minutes $185
Experience the calming and therapeutic effects of our signature treatment. A custom aromatherapy massage is followed by warm compresses and heat as you are lightly wrapped to encourage the bio-absorption of nurturing essential oils. A luxurious scalp massage is the final touch as your body and psyche experience a state of total relaxation.
Refining Body Toner 80 minutes $185
This treatment begins with a gentle exfoliation; your body is then cocooned in a comforting body wrap while you enjoy a scalp massage for total relaxation.
The Zahanati Massage Center has been honored in years past by Conde Nast Traveler Magazine as one of the Readers Favorite resort Spas. Do you take advantage of the Zahanati Massage Center while visiting on your Walt Disney World Vacation? If so, leave a comment and let me know what you thought of their services.