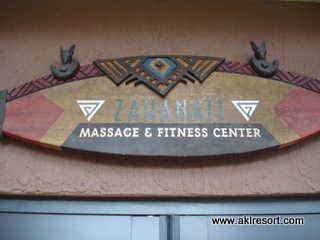 Zahanati massage and fitness center is located near the Uzima Springs pool. It offers massage services and a full collection of cardio and cybex weight-training equipment. Men's and women's locker rooms, steam rooms, shower facilities, and saunas are available.
Zahanati is open 24 Hours, and is available to all AKL resort guests aged 14 and up (NOTE: guests aged 14-17 must be accompanied by an adult) with no extra charge. Personal training appointments are available in the facility or in-room.
If you are not a guest of Animal Kingdom Lodge or Villas, you can use Zahanati facilities for $12/day.
Massage and spa services start at $115 and are offered by appointment.
Click here for Zahanati information, including hours, spa services, and more.
To schedule personal training or spa services, contact Zahanati at: 407-938-4715.
Pricing as of 9/10/2014. All information subject to change.