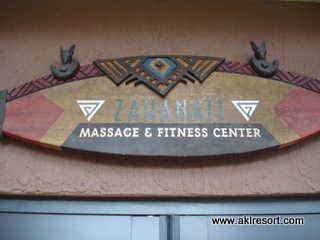 The Zanahati Spa & Fitness Center is your Animal Kingdom Lodge destination for fitness and rejuvenation!
This full-service exercise and massage facility is open 6:30 a.m. to 9 p.m. for fitness and 8 a.m. to 8 p.m. for treatments. It's located near the Uzima Springs Pool, on the ground level.
For exercise, there's a full selection of cardio equioment and Cybex weight training machines. There's also men's and women's locker rooms, steam rooms, shower facilities, and saunas.
For treatments, indulge in a massage, facial, body wrap or body toner. All the spas at Disney World are operated by Niki Bryan Spas — click here for full pricing information.
Check out photos of the spa & fitness center.
Have you taken advantage of the Zanahati Spa & Fitness Center during a stay at AKL? What are your thoughts? Leave a comment below!
Do you love Disney's Animal Kingdom Lodge? Join fellow fans over on our facebook page and follow us on our twitter feed @DisneyHotelsFan.